The U.S. Department of Commerce has been given a high profile role in intellectual property policies in the Obama Administration. The Department is headed by Secretary of Commerce Gary Locke. Locke is the best known as the former two term governor of the State of Washington. After leaving the government, he has also been a lawyer and consultant, including to Microsoft. Here are a few data points on that relationship.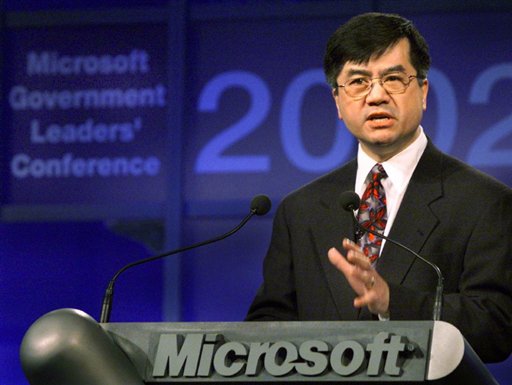 Washington Governor Gary Locke speaks at the Microsoft Government Leaders' Conference in Seattle, Washington
Homegrown Hero Locke Faces Test on China Trade as Tensions Lurk
May 20, 2010, 7:09 PM EDT
By Mark Drajem, Businessweek
As a private lawyer in 2006, after his gubernatorial term ended, Locke decided to lure current China President Hu Jintao to Seattle during his planned U.S. visit.

Dinner With Bill

When China's State Councilor Tang Jiaxuan came to the U.S. to scout venues, Locke organized a dinner at a penthouse in the city's tallest building, the Columbia Center, he recalled in the interview.

As they looked out over Elliot Bay at the distant Olympic Mountains on a rare, clear Seattle dusk, Locke said he pledged to have Microsoft Corp. Chairman Bill Gates host a dinner at Gates's home if Hu would visit.

He just needed to work out one detail: "I hadn't gotten Bill to agree to host him," Locke said.

Gates did, and with his wife, Melinda, greeted Hu at their lodge-style estate overlooking Lake Washington, where they served smoked guinea fowl, Washington-grown asparagus and Alaskan halibut.

"Because you, Mr. Bill Gates, are a friend of China, I'm a friend of Microsoft," Hu told Gates during the Seattle visit.

Before Hu arrived, China agreed to require computer makers to load legal software on new machines, helping unlock a $3 billion market for Microsoft. Days later, the maker of Windows software announced a $3.7 billion investment in China.

Victories like that are possible, Locke says.
2009 April 10
Commerce Secretary is longtime advocate of Boeing, Microsoft
By Carol Eisenberg, April 10, 2009, Muckety.Com
2009 March 11
Gary Locke: A Corporate Champion at Commerce: Our former governor takes to D.C. a record of favors for Boeing and Microsoft.
Rick Anderson Wednesday, Mar 11 2009, Seattle Weekly
As King County Executive and then two-term governor until 2005, Locke at times opened the state's pocketbook to corporations, most memorably helping billionaire Seattle Seahawks owner Paul Allen build a publicly financed football stadium and engineering a $3.2 billion tax break for Boeing to assemble its new 787 jetliner in Everett. Locke also backed a steep reduction in unemployment and injured-worker benefits, particularly those suffering hearing loss, calling it "reform" rather than the coup it was for big business. Since leaving office, Locke has quietly worked in the private sector as an attorney and consultant with Davis Wright Tremaine, a Seattle law and consulting firm. There he has represented some of the same corporations he helped as governor, including Microsoft. . .

Microsoft will likely be on Secretary Locke's agenda as well. Co-founder Bill Gates is a longtime supporter of Locke, having hosted one of his first gubernatorial campaign fundraisers in 1999. As governor, Locke supported tax breaks and signed legislation sought by the company, including tougher laws against software piracy. Today, Microsoft is seeking a similar strengthening of piracy laws in China, one of its biggest markets.
2009 February 25
Locke's China work complicates bid
KENNETH P. VOGEL 2/25/09, Politico
The problem is that Locke, a partner in an international law firm's China division, has advocated for Microsoft, Starbucks, and banking, timber and shipping interests in recent years, raising potential conflicts for him as head of a department charged with promoting U.S. trade around the globe.

One of Obama's first acts as president was to sign an executive order barring executive branch officials from working on issues "directly and substantially related" to their former clients or employers for two years.

Yet if he's confirmed as commerce secretary, Chinese trade issues – including some with direct impact on the companies he went to bat for – are likely to be high on the agenda for Locke, who is the first Chinese-American governor.

Software piracy issues would rank among them. Microsoft and other software developers have lobbied both the U.S. and Chinese governments to crack down on profit-draining practice. On a similar front, Starbucks recently won a trademark lawsuit against a Chinese company using its logo.

An administration official brushed off questions about what steps, if any, would be necessary to ensure Locke complied with Obama's ethics policy. Instead, the official said that Locke didn't act as a lawyer for the companies named in this story, with the exception of Microsoft. The other companies likely were clients of Locke's law firm, Davis Wright Tremaine, suggested the official, who did not respond to requests to release a full list of the clients Locke represented in the last two years.

"As governor of the state of Washington and later as an attorney representing U.S. companies, Gary Locke opened markets and created opportunities for American businesses overseas – critical experience for any commerce secretary," said the official. "We are confident that Governor Locke will be able to continue to advocate on behalf of American businesses and workers while at the same time adhering to the administration's ethics policy."
2009 February 25
The Gary Locke Record on IP
Mark Esper of the Chamber of Commerce, February 25, 2009. Chamberpost.Com
As governor of a state that Microsoft, Boeing and a robust high tech community call home, Gary Locke has shown he understands the responsibilities our political leaders have in supporting our knowledge-based economy. As economic hard times continue, our government must safeguard and promote the very ideas that will enable our innovation economy to stabilize and then flourish once again. Innovators like Bill Gates have proven the vast potential of turning ideas into full-fledged inventions that generate jobs, promote growth and improve our quality of life. Protecting ideas through strong intellectual property rights and enforcement will help encourage the next generation of Bill Gates and others who will be on the front lines of our innovation economy in the 21st century.
2009 February 2
News Press Release: Microsoft Statement on the Announcement of Governor Gary Locke as Commerce Secretary-Designate
By Brad Smith, Senior Vice President and General Counsel, Microsoft
WASHINGTON, D.C. – Feb. 25, 2009 – As Governor of Washington, Gary Locke worked with state businesses both large and small to successfully strengthen the state's economy and improve its global competitiveness. He is prepared to face the challenges of our changing economy, and is an enthusiastic advocate for the innovation that will drive our national recovery and growth in the years to come. With Governor Locke at the helm, the Commerce Department will play an integral role in ensuring America remains competitive in the global marketplace.
2004 May 4
State of Washington and Microsoft Address Technology Skills Gap Through U.S. Partners in Learning
SEATTLE, May 10, 2004 — To succeed in today's increasingly digital society, students must learn to use tools essential to everyday life and the workplace while schools face the challenge of adapting current education models so they can give students the skills they will need. Today, Gov. Gary Locke's office and Microsoft Corp. announced their intent to work together over a five-year period to develop and implement long-term sustainable education models as part of Microsoft's U.S. Partners in Learning.
James Love's Blogs
Add new comment
Printer-friendly version

Send by email