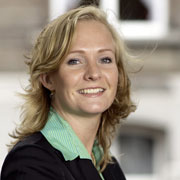 On April 1, 2011, Marietje SCHAAKE and Christian ENGSTRÖM submitted a parliamentary question on the appointment of Maria Martin-Part as the new head of unit for copyright policy for the European Commission.
Written Question to the Commission (Rule 117)

AUTHOR(S): SCHAAKE, Marietje; ENGSTRÖM, Christian

SUBJECT: Conflicting interests in copyright-related issues?

According to media reports, the Commission has appointed a new Head of Unit for the department responsible for copyright-related issues (e.g. ACTA and IPRED). This person is, according to the reports, a former Director of Global Legal Policy at the Phonographic Industry lobby organisation IFPI.

Can the Commission confirm if this is the case?

Does the Commission not see any problems in recruiting top civil servants from special interest organisations, especially when being put in charge of dossiers directly related to their former employers? If not, why not?

Does the Commission feel that such an appointment would help to build confidence with the European Parliament and the general public that the Commission can be trusted to handle copyright-related issues in a fair and balanced manner?
---