On March 12, 2012, Steve Ricchetti began his new job as a high level policy adviser to Vice President Biden. Steve Ricchetti is a former registered lobbyist, who de-listed as a registered lobbyist but remained the president of a lobbying firm until taking his new job in the White House.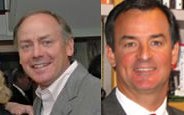 Steve Ricchetti and his brother Jeff Ricchetti. Jeff generated $3.1 million in lobbying fees for Ricchetti, Inc. in 2010-2011
Mr. Ricchetti founded Ricchetti Inc, a lobbying firm whose clients includes health technology companies such as Intellectual Ventures LLC, Eli Lilly, Boston Scientific, Sanofi-Avntis, Novartis AG. Between the years 2010 and 2011, Intellectual Ventures was Mr. Ricchetti's largest client, paying a total of $480,000 for the firm's service. Sanofi-Aventis and Novartis AG each paid $240,000 over the same period for the lobbying service of Ricchetti Inc.
Intellectual Ventures is headed Nathan Myhrvold. who founded Intellectual Ventures after retiring from his position as chief strategist and chief technology officer of Microsoft Corporation. The firm, which reportedly holds tens of thousands of patents, has been profiled by Malcolm Gladwell in the New Yorker, and derided by critics for its business practices, and is sometimes referred to as a patent troll.
Mr. Ricchetti found Ricchetti Inc in 2001 and was a registered lobbyist until 2008. While Mr. Ricchetti has ceased to be a registered lobbyist since 2008, he retained the presidency of Ricchetti Inc. His brother, Jeff Ricchetti, remains a registered lobbyist and is listed as the lobbyist of all but one of the companies represented by Ricchetti Inc in 2011. (All clients except for the National Industrial Sand Association). Prior to the establishment of Ricchetti Inc, Mr. Steve Ricchetti served as the White House Deputy Chief of Staff in the Clinton Administration from 1998 to 2001. His first post with the Clinton Administration was the Deputy Assistant to the President for Legislative Affairs, working closely with the United States Senate.
KEI will ask Mr. Ricchetti to recuse himself in all matters regarding intellectual property rights, as well as the pricing and regulation of drugs, vaccines and medical devices.
Ricchetti Inc. Clients: 2010-2011

| | | | | |
| --- | --- | --- | --- | --- |
| | Client | 2010 | 2011 | 2 year Total |
| 1 | Intellectual Ventures LLC | $240,000 | $240,000 | $480,000 |
| 2 | Association for Advanced Life Underwriting | $200,000 | $250,000 | $450,000 |
| 3 | American Hospital Association | $200,000 | $200,000 | $400,000 |
| 4 | Sanofi-Aventis | $120,000 | $120,000 | $240,000 |
| 5 | Novartis AG | $120,000 | $120,000 | $240,000 |
| 6 | Health Management Association | $120,000 | $120,000 | $240,000 |
| 7 | American Council of Life Insurers | $140,000 | $65,000 | $205,000 |
| 8 | Boston Scientific Corporation | $200,000 | $0 | $200,000 |
| 9 | AT&T Inc | $120,000 | $80,000 | $200,000 |
| 10 | Eli Lilly & Company | $120,000 | $60,000 | $180,000 |
| 11 | NaviMedix | $100,000 | $20,000 | $120,000 |
| 12 | National Healing Corporation | $90,000 | $0 | $90,000 |
| 13 | Association of American Railroad | $80,000 | $0 | $80,000 |
| 14 | National Industrial Sand Association | $0 | $65,000 | $65,000 |
| | | | | |
| | Total | $1,850,000 | $1,340,000 | $3,190,000 |