Through a Freedom of Information Act request, KEI has obtained records relating to US Trade Representative Ambassador Robert Lighthizer's attendance at the 2018 World Economic Forum in Davos, Switzerland. While many of the records were related to scheduling and re-scheduling matters, the responsive records contained several items of note.
The 2018 World Economic Forum (WEF) took place from January 23-26, 2018. Ambassador Lighthizer attended events on January 25th and January 26th. On January 26th, Lighthizer was also attending the "WTO mini-Ministerial" hosted by the Swiss Government, in Davos, as well as several bilateral meetings.
The negotiations over the scheduling of the bilateral meetings was the primary focus of the emails we received in the FOIA response. While Davos is known as a gathering of corporate executives, Lighthizer spent most of his time meeting with other government officials involved in trade negotiations.
On January 3rd, Tim Reif (USTR) recommended that Amb. Lighthizer meet with two groups of individuals for bilaterals, stating the top goal of these meetings would be to "build support, primarily in Europe and Japan, for addressing the China challenge and, in particular, for upcoming U.S. actions in regard to China, particularly the 301 on IP/innovation." He recommended the following individuals (although the reasons he gave for each was redacted):
Ursula von der Leven (Minister of Defense, Germany).

Bruno Le Maire and/or Jean-Yves Le Drian (Ministers of Economy and Foreign Affairs, respectively, France).

Jean-Claude Juncker (President of the European Commission).

Roberto Azevedo (Director-General of the World Trade Organization).

Cecilia Malmstrom (European Commissioner for Trade).

Keith Bradsher (New York Times, Shanghai Bureau Chief).
Henrique Meirelles (Minister of Finance, Brazil).

Steve Ciobo (Minister of Trade, Australia). 
The records also included a memo from January 12th, indicating both the meeting requests received by Amb. Lighthizer and those sent by USTR.

Meeting Requests Received:
Liam Fox, UK Trade Minister

Andrew Liveris, CEO Dow Chemical

David Parker, New Zealand Minister of Trade and Export Growth

Hon. Steven Ciobo, Australia Minister for Trade, Tourism, and Investment

Mr. Mikheil Janelidze, Georgia Vice Prime Minister, Minister of Foreign Affairs

Mr. Angel Gurria, Advisor to the Secretary-General, Organization for Economic Co-operation and Development Secretary-General

The Washington Post — Slate — Foreign Policy Lunch

Stewardship Board Meeting on International Trade and Investment

WTO Ministers Only Dinner
Meeting Requests Sent or To be Sent by USTR:
Ildefonso Guajardo, Mexico Secretary of Economy 

Bruno Le Maire, France Minister of Finance 

John Neill, CEO Unipart Group

Cecilia Malmstrom, EU Commissioner
The final 'advance' memos for all bilaterals for Amb. Lighthizer assembled by his Confidential Assistant Trevor Guy on January 24, 2018 (pages 52-63) outline Amb. Lighthizer's schedule for his two days in Davos, and who was successful in securing a bilateral.
January 25, 2018
Washington Post – Slate – Foreign Policy Lunch (105 min)
UK – Minister Fox (30 min)
Stewardship Board Meeting on International Trade and Investment WEF Event (105 min)
CA – Minister of Foreign Affairs Chrystia Freeland (30 min)
Dow Chemical Company – Andrew Liveris (13 min)
Unipart Group – John Neill (45 min-cocktails)
MX – Secretary Guajardo (60 min-dinner)
January 26, 2018
FR – Minister Le Maire (25 min)
EU – Commissioner Malmstrom (30 min)
NZ – Minister Parker (29 min-during WTO mini-Ministerial)
AU – Minister Ciobo (30 min)
Overall, Amb. Lighthizer seems to allot half an hour for bilaterals with foreign ministers, with the exception of the Mexican Secretary of Economy Ildefonso Guajardo with whom he had dinner. Additionally, while setting aside 13 minutes for the CEO of Dow Chemicals (who reached out to USTR), USTR sought the meeting with John Neill, the CEO of Unipart Group, and had 45 minutes for cocktails with Mr. Neill.
The Unipart Group is a multinational manufacturing, logistics, and supply chain company based in the UK, but with operations throughout Europe, North America, Australia, and Japan. The company works across a variety of sectors including automotive and railway parts manufacturing.
One meeting that did not occur (not for lack of trying on the part of the company), was a bilateral meeting between Amb. Lighthizer and COO of Pfizer Albert Bourla. The records received via the FOIA contain an exchange between Pfizer and USTR, in which they were unable to arrange a meeting during Davos. This exchange was then forwarded to another contact in USTR by a third party, Ken Duberstein.
Ken Duberstein served President Ronald Reagan as White House Chief of Staff, Deputy Chief of Staff and Assistant to the President for Legislative Affairs, before forming The Duberstein group, which lobbies for major corporations such as Accenture, Amgen, Goldman Sachs, Comcast, PepsiCo, and Pfizer, among others.
Screenshots of the exchange follow below: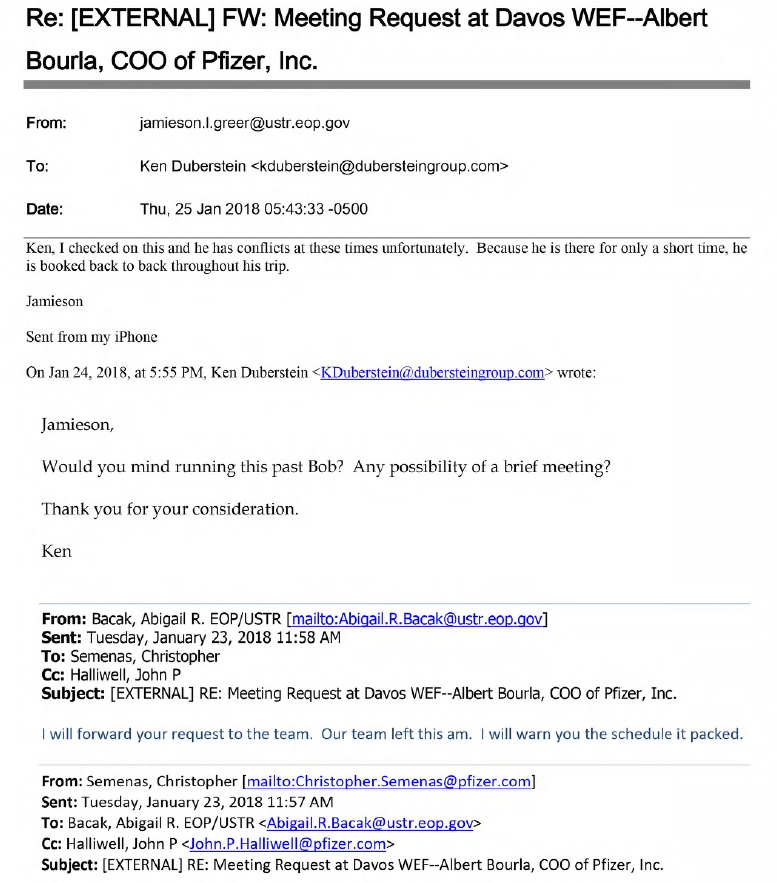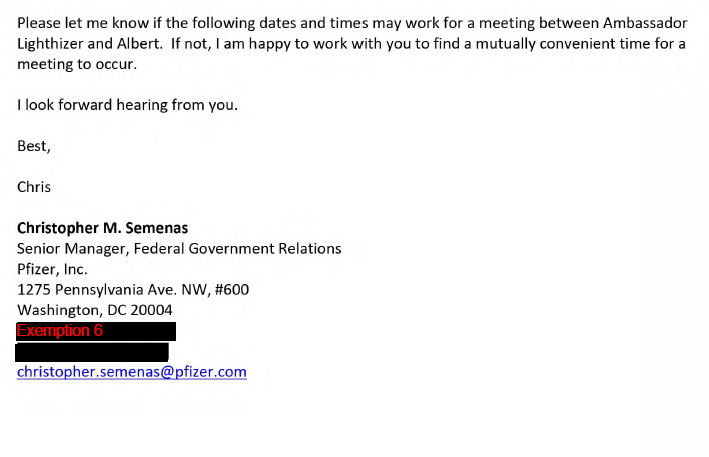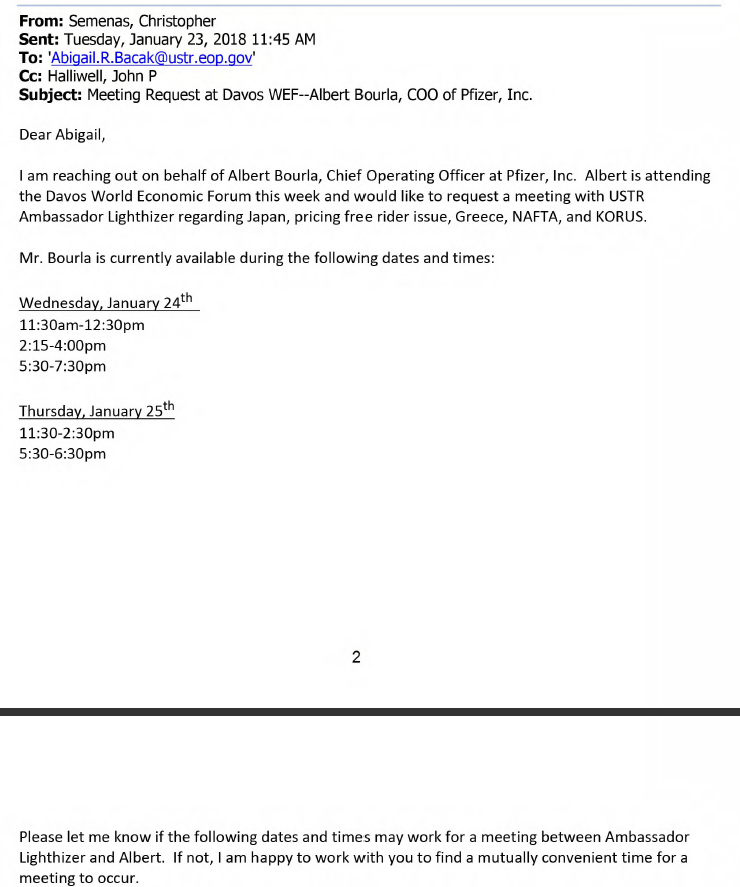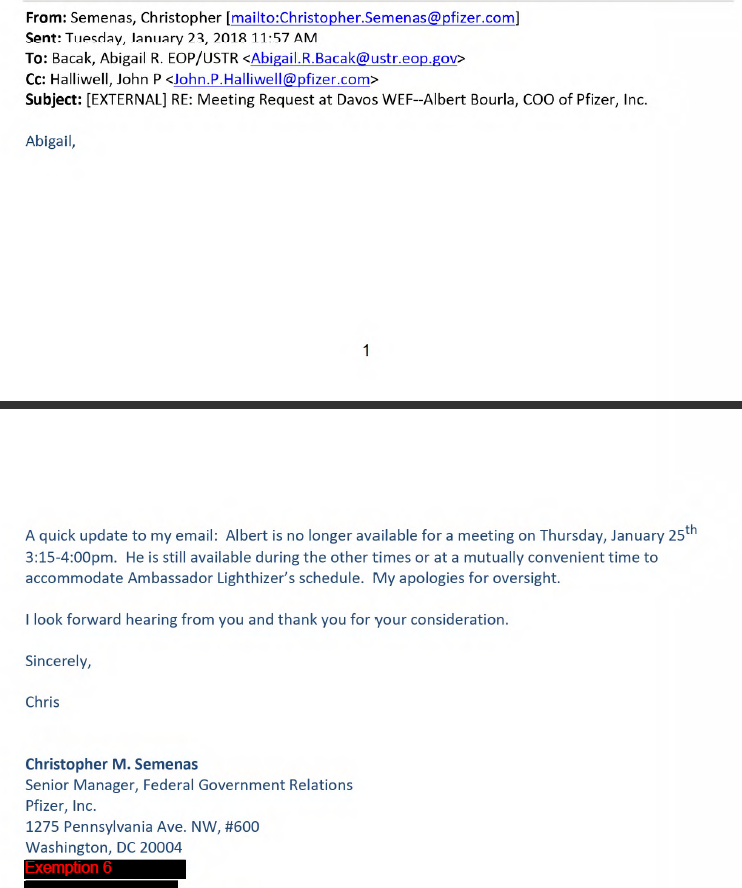 A copy of the records received via the FOIA request are available here.
Note: Amb. Lighthizer is often referenced in the records as "ARL."