Updated between 11 March 2020 to 18 March 2020 to include reactions from stakeholders on the nomination of Daren Tang (Singapore) as Director General of the World Intellectual Property Organization (WIPO)
Brook K. Baker, Senior Policy Analyst Health GAP (Global Access Project)
Twenty-five years after adoption of the WTO TRIPS Agreement and 19 years after the Doha Declaration on the TRIPS Agreement and Public Health, we still have many low- and middle-income countries that have not adopted and/or are not using and protecting public-health flexibilities that would help increase affordable and equitable access to medicines for all people for all medical conditions. Part of the problem is counter-productive, pro-IP technical assistance that "developing" countries receive from WIPO, mainstream consultants, and IP offices of rich countries. WIPO needs to completely turn is technical assistance around, and, instead of encouraging IP harmonization at ever higher standards, it must recognize and respect the highly differentiated needs of people and countries struggling under the burden of monopoly pricing by Big Biopharma. WIPO should encourage developing countries to adopt and use stringent standards of patentability and disclosure, all available exclusions and limited exceptions to patent and data rights, opposition systems, compulsory licenses, parallel importation, and permissible limitations on remedies. Furthermore, WIPO should encourage all member states, especially the US, EU, and Japan, to refrain from seeking to undermine TRIPS flexibilities in other countries and from imposing TRIPS-plus measures that further undermine the right to health.
Thiru Balasubramaniam, Geneva Representative, Knowledge Ecology International
Daren Tang, WIPO's Director-General elect, will need to step up to the plate in relation to the covid-19 response. It is incumbent on Director-General elect Tang to spell out his vision for how WIPO, as a specialized agency of the United Nations, will ensure that intellectual property barriers do not impede scaled-up access to new diagnostic tests, drugs, vaccines or other technologies found to be effective in controlling and treating the coronavirus (covid-19) pandemic.
Dr Hu Yuan Qiong, Senior Legal & Policy Advisor, Médecins Sans Frontières Access Campaign
For many years, we have engaged in the critical debates on the issues of patents and health at WIPO fora. The way in which pharmaceutical patents have been used by the industry is posing a real threat to access to medicines and public health at the global level. This hits vulnerable populations the most and makes access to patented treatments a continuous challenge in resource limited settings. Under Mr Tang's leadership, we hope WIPO will engage with civil society organisations, avoid any conflict of interests in its relationship with pharmaceutical industries, and concretely support countries to prioritise public health in their intellectual property laws and policies.
Gerald Leitner, Secretary-General,The International Federation of Library Associations and Institutions (IFLA)
I am very glad to see someone with a strong knowledge of copyright – and great record of modernising reform at the national level – take on this role. This is promising news for libraries, who depend on the right copyright laws to support research, education and access to culture. IFLA wishes Mr Tang well in this new role, and hopes that it leads to fresh energy in efforts towards meaningful international action.
James Love, Director, Knowledge Ecology International (KEI)
Daren Tang will head the UN agency that is responsible for shaping intellectual property norms and practices in ways that serve the public, including marginalized communities. In recent years, WIPO has moved some of its negotiations into off the record informals, making it more difficult for the public to know what their national delegations favor in the this UN forum. WIPO has also been unable to usefully introduce economic analysis into its core activities. This is an opportunity for Daren to show that he can modernize policy analysis at WIPO, engage with civil society, and resist the relentless pressure from rent seeking right holder lobbies to turn WIPO back into a captured institution.
Teresa Nobre, Vice-President, Communia
We want to congratulate Mr. Tang on his nomination for the post of WIPO's Director General. We hope that Mr. Tang will take a strong commitment to neutrality, fairness and transparency, and that his senior management team will be equally committed to those principles. In particular we expect that his stance on issues that have been key areas of concern for the organizations advocating for society-oriented reforms at WIPO clearly contribute to ensuring full participation of civil society representatives, ensuring that WIPO's work is based on solid evidence, and guaranteeing that WIPO and its staff are neutral and impartial sources of information.
Wilbur L. Ross, United States Secretary of Commerce
"The election of Daren Tang as Director General of the World Intellectual Property Organization is good news for the global economy. Mr. Tang understands the importance of intellectual property rights to inventors, artists, entrepreneurs, companies, and all those whose livelihoods depend on their creative genius. Much of today's economic growth is due to the application of new inventions, technologies, and cultural creations that are protected by patents, trademarks, and copyrights."
Sangeeta Shashikant, Legal Advisor, Third World Network (TWN)
Singapore is known for its very pro-intellectual property stance, often promoting TRIPS-plus positions in trade negotiations. We hope the DG will recognize that such positions undermine the intellectual property system and more specifically the WTO-TRIPS Agreement which explicitly recognizes the system should work to the mutual advantage of producers and users of technological knowledge and in a manner conducive to social and economic welfare, and to a balance of rights and obligations. We also hope that the DG will adopt a strict policy to avoid any conflict of interests in WIPO's activities especially in its norm-setting and technical assistance activities.
Anubha Sinha, Senior Programme Manager, Centre for Internet and Society, India
We'd like to congratulate Mr. Tang on his nomination as Director General of WIPO. We hope that under his leadership, he will be able to usher more transparency and due process into various law and policy making functions of WIPO – from the selection of experts to conducting committee negotiations. Information societies in developing countries should not be purely treated as markets by creative industries – this principle should underpin Mr. Tang's efforts to bridge the north-south divide. We look forward to contributing to issues impacting the public interest at WIPO– and hope that meaningful and steady progress will be made. Foray into new areas for intellectual property protection such as artificial intelligence must happen with proper recognition of the ramifications such privately-owned technologies are having on societies.
John H. Weitzmann, General Counsel and Head of Policy and Law at Wikimedia Deutschland
I congratulate Mr. Tang on his nomination as Director General of WIPO. The Marrakesh Treaty has shown that WIPO can be a progressive force in copyright reform. Now is the time to engage in a meaningful debate on the modernization of international copyright law and further improve the balance between rights holders and users. Wikimedia Deutschland wishes Mr. Tang all the best for his tenure and is looking forward to a fresh start on limitations and exceptions.
Dr. Ellen 't Hoen, Director, Medicines Law & Policy (ML&P)
I congratulate Mr Daren Tang on his nomination for the post of director-general of WIPO. WIPO's primary constituency is the public, not only those that seek intellectual property rights. But serving the public's interests is a challenge for a UN agency that expects in the next two years to raise CHF 880 million in fees for the services it offers. It would, therefore, be important that Mr Tang outlines how he plans to promote the UN's human rights and social justice principles, how he plans to protect and further increase WIPO's transparency and how he intends to engage with public interest non-governmental organisations.
---
Singapore's Daren Tang emerges victorious in WIPO leadership race
It was a papal conclave save for the plume of white smoke. At 17h16 on Wednesday, 4 March 2020, Ambassador Umej Bhatia, Singapore's Permanent Representative to the United Nations Office in Geneva posted on Twitter that Daren Tang of Singapore won the leadership race for the top post of Director General of the World Intellectual Property Organization (WIPO). In the final round of voting which took place at WIPO's Coordination Committee, Singapore's Daren Tang received 55 votes; China's candidate, Ms. Binying Wang of China received 28 votes. Daren Tang is currently the Chief Executive of the Intellectual Property Office of Singapore (IPOS), a post he has held since 16 November 2015. Daren Tang will assume the post of Director General of WIPO on 1 October 2020. The term of Dr. Francis Gurry, the current Director-General of WIPO expires on 30 September 2020.
In the context of WIPO, Tang has served as the Chair of the Standing Committee on Copyright and Related Rights (SCCR) since May 2017. In relation to trade and intellectual property norms, Tang's CV notes that he served as the lead negotiator and chief counsel for Singapore during the negotiations of the US-Singapore Free Trade Agreement from 2001 to 2003. He also chaired IP negotiations in the Trans-Pacific Partnership Agreement (TPPA) and the Regional Comprehensive Economic Partnership Agreement (RCEP).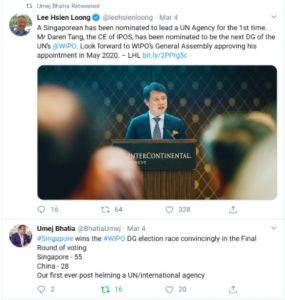 Round 1 – Winnowing the field
On 4 March 2020 WIPO convened an Extraordinary Session of its Coordination Committee to nominate a candidate for the post of Director General. François Rivasseau, the Permanent Representative of France to the United Nations Office at Geneva served as Chair of the Coordination Committee.
The WIPO conclave consisted of the following countries (83 in all):
Algeria, Angola, Argentina, Australia, Austria, Bangladesh, Belarus, Belgium, Bolivia, Brazil, Burkina Faso, Cameroon, Canada, Chile, China, Colombia, Costa Rica, Côte d'Ivoire, Cuba, Democratic People's Republic of Korea (North Korea), Denmark, Djibouti, Ecuador, Egypt, El Salvador, Ethiopia, Finland, France, Gabon, Georgia, Germany, Ghana, Guatemala, Hungary, Iceland, India, Indonesia, Iran, Iraq, Ireland, Italy, Jamaica, Japan, Kazakhstan, Kenya, Kyrgyzstan, Latvia, Luxembourg, Malaysia, Mexico, Moldova, Mongolia, Morocco, Namibia, Netherlands, New Zealand, Nigeria, Norway, Oman, Paraguay, Peru, Philippines, Poland, Portugal, Republic of Korea (South Korea), Romania, Russia, Senegal, Singapore, South Africa, Spain, Sweden, Switzerland, Thailand, Trinidad and Tobago, Tunisia, Turkey, Uganda, United Arab Emirates, United Kingdom, United States of America, Viet Nam, Zimbabwe.
The six contenders included:
Mr Marco Matías Alemán (Colombia)
Mr Ivo Gagliuffi Piercechi (Peru)
Dr Edward Kwakwa (Ghana)
Mr Daren Tang (Singapore)
Ms Saule Tlevlessova (Kazakhstan)
Ms Wang Binying (China)
Prior to the first round of voting on 4 March 2020, Saule Tlevlessova of Kazakhstan withdrew from the race. The tally after the first round of voting witnessed the following results.
Daren Tang: 37 votes
Wang Binying: 19 votes
Edward Kwakwa: 16 votes
Marco Alemán: 7 votes
Ivo Gagliuffi Piercechi: 4 votes

Round 2 – Tang versus Wang
After the first round, Ivo Gagliuffi Piercechi of Peru was automatically eliminated from the race. Before the second round commenced, Edward Kwakwa of Ghana and Marco Alemán of Colombia withdrew their names from contention. At 17h16 Ambassador Umej Bhatia of Singapore announced the results of the final round of voting; Daren Tang received 55 votes and Wang Binying (China) received 28 votes. As noted in WIPO's official press release, "The WIPO General Assembly will meet in an extraordinary session on May 7-8, 2020, to confirm the Coordination Committee's nomination."
When Daren Tang assumes the helm of WIPO on 1 October 2020, many observers will closely watch his appointments to the Senior Management Team including the plum posts of Deputy Director General of Copyright and Creative Industries Sector and the Deputy Director General of the Patents and Technology Sector. An unwritten rule (in place over the last 15 years) holds that an American citizen either oversees the Patent division or the Copyright division. Beyond the spoils of victory, one wonders what direction WIPO will take in its norm-setting activities.