The WIPO Standing Committee on Copyright and Related Rights is meeting (not as usual) from 12 to 14:30(CET) everyday this week.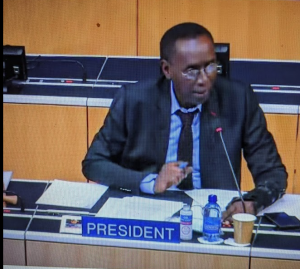 Day 1 has not gone smoothly because of technological challenges and the Secretariat eventually decided to stop the meeting. It will resume tomorrow and hopefully the audio and visual issues will be resolved by then. However, there were some statements made by group coordinators regarding the agenda items, followed by individual member states statements on the work on a broadcasting treaty. No real surpise here. The treaty is still a " high priority" for the European Union but the USA does not think virtual negotiations are appropriate. For many other delegations, until a consensus on definitions, scope, and rights, is reached, the discussions must continue but scheduling a diplomatic conference could be problematic before a text-based negotiations has really taken place.
For a bit of context, for the last 22 years, the committee has discussed the proposed treaty but there are still no consensus on issues of definitions, scope and rights.
Here are my notes from the session today:
Nov 16, 2020 On Day 1 of WIPO #SCCR 40:
Opening & Protection of Broadcasting Organizations
During the 39th session of the SCCR, the Chair Revised Consolidated Text on Definitions, Object of Protection, Rights to be Granted and Other Issues, was discussed in both informal meetings and plenary. During discussions, the Chair indicated textual amendments that would be incorporated in order to reflect the current state of discussion. Parts of the document contain alternative text and wording between brackets for further discussion.
The result of the negotiation held during SCCR/39 was reflected by the Chair in document SCCR/39/7, which was made available immediately after the 39th Session under the same title as previous versions.
The live session started with a recap of the key provisions of the Revised Consolidated Text by the Chair and the Secretariat refreshed recollections about recent discussions and provided an introduction to the subject for new delegates and
representatives. The discussions will continue Day 2 – Tuesday, November 17, 2020 with general comments from Members, IGOs and NGOs.
Group Statements (no individual member states' statement for this SCCR) on the agenda:
UK for Group B: These are difficult circumstances but we remain committed to work on Broadcasting. On L&E, we welcome the report of regional seminar. Look forward to discuss. On public lending rights item, we will have to balance with other works that need to be done.

Bangladesh for Asia Pacific group: (Audio problem) Broadcasting Treaty, we are hopeful for a consensus. Artist resale rights and the digital economy as well as public lending rights are also of interest for the group.

Panama for GRULAC: no audio (intervention is postponed)

Zimbabwe for the Africa Group: (no camera) The Africa Group committed to work on the mandate even if scope is different due to pandemic. There will be no negotiations but we look forward to have an appreciation of the revised text and reports on the regional meetins on L&E.

China: We are interested in all the agenda items. No consensus even if we are working since 1998 on these agenda items. L&E we want to see a pragmatic workplan. On the other topic we want to learn more.

Russian Federation for the Central AsiaCaucus: We have less time so let's be brief. We support all agenda items.

Panama for Grulac: Sorry for the technical problems. Our group is pleased that despite the current challenges we have agree to continue our work. Protection of broadcasting organisation, we reiterate the decision of 2019 to continue work to lead to a 2021 diplomatic conference subject to consensus on object and scope. We have not had in depth debate but refresh memory re the content for the delegates and the capitals. Re L&E Grulac in 2018 GA mandate to work on legal instruments in that areas.
Re digital music we will listen carefully to the WIPO report. The study is a valuable tool to unterstand the issues. We are looking forward also at resale rights, theater directors and other rights.

Chair: Item 5: Daren Tang's text, Revised consolidated text. During the 20 to 22 years , there has been changes, the topic has been studied and has been debated. We do not need to dwell on the past. The Committe has made progress on scope, object and right to be granted. The updated text: SCCR/39/7) (available in six languages); at https://www.wipo.int/meetings/en/details.jsp?meeting_id=56053

This session is to recap or refresh and the secretariat will refresh our memory.

The secretariat describing 5 parts and an annex.
1. Preamble: in bracket
2. General Provisions: also in bracket. Some discussioj at SCCR 39
3. substantive issues:
Definitions: some brackets
Object of protections: 2 alternative languages
Rights to be granted: 2 alternative texts. Discussed in the informal.
4. other issues
5. The annex: useful for discussion but no consensus.

UK: No substantive discussion at this time.

China: [..]

Zimbabwe: [..]

The European Union: High priority for the EU and its member states even if challenges. (audio problems)

Brazil: We welcome an update of the Rome. We have to intensify discussion to lead us to a diplomatic conference.

Canada:(audio problem)

Kenya: (audio problem)

Mexico: We need to continue to work on a treaty

Canada: (still problem)

Chair: sorry

[…]
USA: (no contact)
Chair:
Canada?
Japan?
Is Columbia readu, now the USA

USA Re the treaty for broadcasters USA: Thank you for the recap.The USA, given the complexcity of issues,technological and legal, like many delegations, we do not think a virtual meeting is appropriate for negotiating but we can continue the discussion. We will resume text based negotiations when it is safe to do so.

Japan: (Audio problem)

Chair: Delegations should send statements in advance for the interpreters. Hungary? Kenya? Canada?
Another try with Canada? Can you hear me?
Let's try with Argentina.

Argentina: […]

Chair: Let's have the secretariat explain.

Secretariat: Interprefy has problems with sounds. Our suggestion it to stop now.

Secretariat reminded the delegates in the meeting to wear a mask if not speaking. Per Geneva, the federation and WIPO guidance to limit the risk.