Today, the hybrid (virtual and @WIPO)Standing Committee on Copyright and Related Rights meeting went more smoothly than yesterday. The tech was checked and tested before the meeting and except for a few statements (some visual or audio failures) we heard loud and clear that only a few delegations are in favor of moving faster regarding the proposal for a treaty for broadcasting organizations. Many delegations are expressing concerns about the lack of balance between rights and limitations and exceptions to rights. There were also quite a few mentions of the pandemic and how, more than ever, society is relying on broadcast over the air or online for information and access to knowledge. The new Chair of the Committee (who replaced the former Chair Daren Tang, now a WIPO DG) is a true diplomat from Senegal named Monsieur Abdoul Aziz Dieng, Conceiller Principal au Ministere de la Culture et des Communications. His handling of a difficult situation caused principally so far by technological issues was impressive. Monsieur Dieng remained civil to all, calm and listened carefully to all statements never losing his sense of humor nor wasting time regarding the task at hand. The excellent interpreters were able to relay his elegant French into a most diplomatic English which I thought was welcome by all remote and not remote listeners.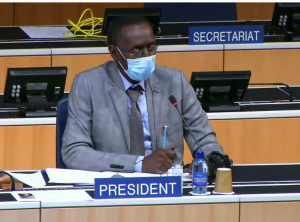 Here are my notes from today's session:
Iran: Today we were told only to give only general comments and that there will ne no substantive discussions regarding the broadcasting treaty.
Chair is calling Canada? Chile? Finland?
Finland: Supportive of the SCCR work
Chair: Chile? Canada?
Canada: Broadcasters have rights in compilations of their broadcast and productions of live events, including live sporting events, as well as content that broadcasters own or license. Canadian law provides many other protections for broadcasters as well, including numerous antipiracy provisions against unauthorized decription of satellite signals, prohibitions against the circumvention of technological protection measures, and the removal or alteration of rights management information that may be used by broadcasters, as well as robust regulatory scheme for retransmitters.

These various measures are implemented across multiple statutes, including but not limited to our National Copyright Legislation. In light of these priorities and aspects of our systems and in anticipation of other Member States having similar needs and schemes, Canada believes that contracting parties to an eventually treaty should have the flexibility to maintain aspects of their domestic regimes that provide signal protection and combat piracy in effective but similarly diverse ways, including the flexibility to choose the appropriate domestic policy instruments and measures by which to implement these protections.

We look forward to the discussion of these and related issues in future sessions and we hope for a greater mutual understanding as well as identifying compromises where necessary in order to accommodate Member States various regimes that have similarly developed in response to cultural and practical concerns.

We also believe it would be helpful for the Committee to consider preparing updated terms — an updated terms and concept's document building on the Committee's previous work in Document SCCR/8/INF/1.
Chile?
Chile: …Chairman, our delegation thanks the Secretariat for the preparation and revision of the documents on the protection of broadcasting organizations so as to remind us of where the discussion got to and with an eye on the fortcoming session of the SCCR. It is our view a balanced approach that considers limitations and exceptions to the protection of the broadcasting organizations and also flexibilities in the implementation of matters that are more tricky, more sensitive, could help to achieve consensus in view of the great differences and questions regarding technical issues that still exist.
Chair: Thank you, Chile. We understand your concern of having a balanced approach and demonstrating a great deal of flexibility on the part of states. Saudi Arabia, you have the floor.
Saudi Arabia: …Chairman, the progress achieved and efforts made to protect broadcasting organizations indicates the Member States desire to protect broadcasting organizations. Chairman, the lockdown faced by many countries and technological developments is proof of the need for protection. We urge all to continue their efforts and to bring togethers opinions so that we may convene a diplomatic conference and protect broadcasting organizations. Thank you.
Chair: Thank you very much, Saudi Arabia for having expressed your will to pursue the work along with everyone else with a view to a diplomatic conference.
Argentina: … Regarding protection of broadcasting organization, and in view of updating this, we hope that this session will be of use in order to sum up the positions on the consolidated text. And that account will be taken of recent discussions when we resume the usual work of this Committee in the future.
In conclusion, may I say that our country is prepared to fully collaborate to make progress on negotiations so that we can achieve greater consensus at future meetings of the Committee.
Bostwana
Botswana: …My delegation aligns with the statement on the distinguished delegation of Zimbabwe on behalf of the African Group. My delegation acknowledges the need to progress with the work of the SCCR towards developing a treaty for the broadcasting organizations. We are mindful of the limitations of the current format of the meeting. We appreciate the document prepared for this agenda item and we are concerned that we will not able to as a Committee engage in the material at this point in time, but we remain hopeful that the Committee will be in the future be able to progress this work on its important agenda item. And once again, we reiterate as Botswana we remain committed to work with the Committee to ensure this item has achieved its objectives.
Colombia
Colombia: …For Colombia broadcasting is a matter of national interest and it is one of the sectors part of the policy promoted from the highest levels of government aimed at promoting creative industries, which as was mentioned yesterday. We recognize that broadcasting organizations have a role to play in the works and services protected by related rights. Access to information and preservation of cultural diversity, which is why a discussion on protection is something that should be continued in this Committee. We highlight the progress made in the discussions from the technical point of view, and these are reflected in the revised consolidated text on definitions of data protection, rights to be granted, and other issues.
which have made it possible to clarify aspects and enrich our discussions.

We continue to support consolidating a binding legal instrument for broadcasting organizations and we should continue to work to achieve a text which will enable us to support the convening of a diplomatic conference for the adoption of a treaty on protection. As we've said on other occasions, and as you mentioned previously, Chairman, it's obvious that what various studies describe on broadcasting lends support to the idea that the negotiation of a possible binding international instrument should ensure that that instrument represents true progress as compared with the existing international conventions, especially the Rome Convention and the TRIPS and should be aimed at the digital age bearing in mind the new business models that are being developed.
Chair: I see no further Member States on my list for the time being. Therefore, I would like to give the floor to HAB, please. Are you there? Can you hear us?
[Broadcasters organizations ]Director General of WIPO, Distinguished Delegates, we analyzed the 18 pages of the document in great details on the object and rights to be granted within the context of this Committee. We note that there are a number of points on which consensus between states has not yet been achieved, and in particular with regard to the interest between rightsholders and users of those rights. Moreover, the COVID-19 crisis means that we have to be more patient when it comes to achieving imminent consensus. Nevertheless, we remain optimistic and we hope that we will have a diplomatic conference with the future adoption of a treaty over the next few months.

Our NGO hopes that the two questions on the agenda, the limitations on exceptions and also the broadcasting organizations will lead to something tangible after 22 years of negotiations, and hopefully we'll have a WIPO treaty on the protection of broadcasting organizations in a concrete form.
Chair: We would like to thank you, too, madam for your intervention. Thank you for the optimism that you expressed. With your indulgence we go to the Member States for a second. We have Hungary that's on the list now and then we shall continue the list with the NGOs. Hungary, you have the floor.
Hungary:…After having heard the important recap by the Secretariat, and all the interventions that took place afterwards related to the agenda item on broadcasting organizations, one might sense that while there may be still some differing views reflected in the text, there is also a common will of advancing our work towards a consensus. (no audio)

Chair: A few technical problems there with Hungary who we will try to connect to Hungary again in a few moment's time.

HungaryThank you. I would just like to resume by saying we have not met in person for over a year and yet we're using a new platform to bridge the gap that otherwise would make it impossible for us to work together. We would not be able to reach those gaps between our points of views and find a common ground in the near future and we're confident there is a way forward and we just have to put more effort into finding it.
NGOS:
PJIP:…Let me start by saying that we cannot agree more with the sentiments of the Africa Group that in light of the COVID-19 pandemic, never before has the subject of copyright limitations and exceptions been more pertinent for education and research purposes. As we have commented extensively in previous rounds, the current broadcast text on limitations and exceptions, after removing the proposal of Chile and Brazil, is now more restrictive in both the permissive and mandatory exceptions than either the Rome Convention or the Copyright Treaties that WIPO manages. There are, for example, no mandatory rights quotation or use news of the day or facilitate access for people with disabilities. None of the express Rome Conventions are clearly mentioned. We urge members to put this language in brackets and include in future rounds in active discussion on modalities modern limitations and exceptions given the agenda. A modern exception would include that broadcast rights not have stronger rights than copyright, that there be mandatory exceptions for preservation, education and research rights that extend into the digital environment, and that there be protections for cross-border lawful uses; for example, through extension of the Marrakesh principle.

Teresa Hacket eifl: I'm speaking on behalf of the Electronic Information for Libraries, the International Federation of Library Associations and Institutions International Council on Archives and Society of American Artists. … Chair, for libraries and archives, the COVID-19 pandemic has highlighted the critical need for modern laws for copyright and related rights that support the shift to online education and critical research. As stated by Zimbabwe on behalf of the African Group, limitations and exceptions for education and research purposes are more important than ever. Thus, the pandemic lays bare a fundamental problem with the current text. The Article on limitations and exceptions is optional and not mandatory. It doesn't even provide for exceptions that are mandatory in other treaties, like the quotation in the Berne Convention and making of accessible format copies in the Marrakesh Treaty. It also doesn't provide for exceptions that are deemed important enough to be made mandatory in other laws, such as preservation of culture and heritage in the EU's Digital Single Market Directive.

Mr. Chair, broadcast services have played a vital public information role during the pandemic. Educational TV has supported remote learning during lockdown, a lifeline in countries with limited access to digital technologies. To ensure fair access to broadcast content for social, educational, and public interest purposes, including preservation, the exceptions in SCCR 39/7 must be made mandatory and countries should be allowed to introduce other exceptions as permitted by the Berne Convention according to national needs. Thank you very much
Chair: Thank you very much. Thank you for expressing your point of view with regards to the COVID situation and exceptions above all. The EBU to prepare. Can you hear us?
EBU: … Last year the momentum for convening the diplomatic conference was gained. Unfortunately, we were not able to hold SCCR in the first half of this year under the circumstances beyond our control brought by COVID-19. And now in this SCCR, time is very limited. And the way the discussion is conducted is restrained severely. But even in these circumstances, we would be able to consider how to make compromise beyond various differences among each Member States' social and legal system. An international treaty is a minimum standard of the world, and its implementation should be done by each country's national law, which does not have to be limited only to copyright act. Based on its own interpretation of the treaty and the Berne Convention on the law of treaties.

I strongly hope that based on this principle, each Member State will seek mutually acceptable points on objectives of scope and objects of protection. We should not hesitate to make major concession now to establish the broadcast treaty. Thank you very much.
Chair: Thank you. We have received your message. You hope that a compromise can be achieved. We will change direction a bit and come back to the Member States. Qatar has the floor. Qatar?
Qatar: …The state of Qatar pays particular attention to the discussions on the protection of broadcasting organizations. We support Member States in their efforts to achieve protection for broadcasting organizations. The channels in our country are regularly pirated, and we therefore suffer considerable losses because of this piracy. As we've already emphasized, the costs of piracy do not only affect the broadcasting organizations but everyone. These piracy attacks lead to a loss in value of the contents, which is why the broadcasting organizations pay more to get quality content, and this harms the creators of content.

All this affects and harms consumers, and creators of content no longer want to pay money to creating towards — towards creating quality content. We should make more efforts to combat piracy.

I think it would be useful to set aside some time at this session to discuss this problem. I think we should convene an international conference and work together to achieve a international consensus on this issue. We call on all Member States to be flexible and positive during the negotiations, and to achieve a convention that guarantees protection for broadcasting organizations. I would also like to stress that we will support the Member States' efforts and the work on all kinds of limitations and exceptions in the Committee. We want to help libraries and archives, and we express once again our interest in examining author's rights, artist's rights, and we hope that we can achieve more results during this session, and we hope that we can work together and achieve remarkable progress over this period.
COMMUNIA then has the floor.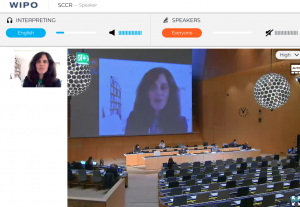 COMMUNIA: Thank you, Mr. Chair. Thank you, Mr. Chair. on behalf of COMMUNIA an association to protect and defend the public domain and user's rights. … We understand the draft of the broadcasting treaty gives broadcasters perpetual rights over public domain and freely licensed content, which is extremely problematic for users. Without this extra layer of rights this can be used without restriction and this freedom should be maintained. In addition, we are concerned that the current proposal for exceptions only gives countries the option to extend already existing exceptions to broadcasting signals.

Obviously, countries can choose not to exercise adoption and if they opt not to, the treaty will be creating new obstacles to access the culture and information. Exceptions are essential to achieve a balance between the interests of the broadcasting organization and the public interests.

The vision that national instruments should only mandate introduction of new rights without proposing adequate exceptions is outdated and turns a blind eye to the fact that copyright can prevent exercise of fundamental freedoms. It's time for this Committee to align itself with the knowledge produced by academics and members which have over and over again referred to the need for a balanced view of copyright.

It should include a broad provision like the one contained in the recent regional comprehensive economic partnership agreement which makes it mandatory for each party to provide an appropriate balance in its copyright system, including by means of exceptions for purposes.
In addition, it should have a minimum set of mandatory exceptions, namely for the users already required by the other copyright treaties. Thank you.
KEI, can you go ahead, please?
KEI: …what we want to lead with is that new measures to address signal theft are one thing but durable post-fixation rights up to 50 years in some proposals, the entities that just retransmit works by authors, performers, and producers is a bad idea.

Post-fixation rights are controversial because they create thickets of related rights that make it more costly and difficult to clear, and they can lead to perpetual protection if assigned at the time of each broadcast.

They will also create a massive expansion of rights to noncreative entities if extended to webcasting.

The biggest beneficiaries will be Pandora, Netflix, Amazon, Spotify and other giant technology firms. The proposed treaty would also extend to services like Tik Tok, YouTube, and Facebook. None of these rapidly growing technology platforms are asking for or needs the proposed related right. Thank you.
Chair: Thank you very much to you, sir, for expressing your concerns regarding fixation. NABA, please. NABA?
NABA: …NABA has participated in respect of a new broadcasting treaty since the start and it remains convinced that updating the protection of broadcasters at the international level is an important and necessary step to complete the transition of the copyright framework to the digital context.

There is broad support for a new treaty as evidenced by the General Assembly last year directing the SCCR to work toward a diplomatic conference in the 2020 biennium.

The COVID-19 pandemic has interrupted work this year, but the goal set by the General Assembly remains in tact. It is therefore incumbent of the Committee to devise a plan to continue work in the manner appropriate for the circumstances.

The previous Chair established productive work with an informal group, the Friends of the Chair Group and with a subset of that group which demonstrates that informal work on a text can and does make progress. We urge the Committee to follow this model and continue work through an informal working group with a mandate to produce an updated text for the next Committee meeting. Thank you.
Kenya:
Kenya:… The Kenya Delegation aligns itself with the statement made by the distinguished delegate of Zimbabwe on behalf of the African Group. Working within the framework of the African Group, Kenya was among the first countries which submitted to the WIPO Secretariat treaty language proposals on the rights of broadcasting organizations. This was in recognition of the fact that the Rome Convention of 1961 upon which the rights of broadcasting organizations are anchored, and in the national plain has become technologically obsolete. Subsequent studies commissioned by WIPO have demonstrated widespread signal piracy contributing aagainst linear and nonlinear platforms. Additionally prod cast organizations do provide convenient, portable, and cross-border access to their program-carrying signals, not only through online services, IPTV, OTT, VOD and other platforms.

This demonstrates that broadcasters over the broadcast services across the platform and through several means of delivery, most of which whenever envisioned by the Rome Convention.

The Delegation of Kenya holds that the need for a new international norm in protection of broadcasting organizations is not only just by new technologies, but also by new broadcast regulatory regimes, as well as the changing consumer taste and means of access. The more than 20 years of deliberations on this matter have created a huge stock of building blocks of which to construct a new instrument. The WIPO General Assembly Resolution of 2019 provides a solid sir come description within which to operate and renews impetus and momentum to finish the work. Luckily, the Chairman's revised consolidated text, SCCR/39/7 provides a basis upon which this Committee can accomplish this task bestowed on it by the General Assembly.

My Delegation believes that the SCCR should make pragmatic headways toward the full treaty text language and the subsequent SCCR meetings and technical meetings should strive to achieve this goal. Kenya undertakes pleasure to participate in and engage with other similar-minded delegations toward an accelerated processes that may bring these long-drawn out matter to a definitive successful conclusion through the convocation of a diplomatic conference.
Chair EI (education International) Yes, we can hear you, madam. Can you hear us?
EI: Yes, I can. So thank you very much. Of course, I'm very happy that there is not an inpatient third-grade class waiting for me to join the lesson and group of delegates and governments are very experienced with the technology, so I speak on behalf of the education and to international the global federation of education unions, with more than 32 million members and about 384 organizations. We are here to share the perspectives of teachers, researchers, and education support personnel who rely on works for teaching and research.

… We as teachers, understand how challenging it is to move from face-to-face meetings to distance and online environments including broadcasting school lectures using TV, radio, mobile phones, and Internet platforms. It will of course not come o as a surprise to you that the potential broadcasting treaties of course is also relevant for our sector. Teachers and researchers make regular use of broadcasted works for teaching and research, and we rely on exceptions and limitations to fulfill our public and human rights-based missions in education and research institutions around the world.

I will just get straight to the point. It will be very important for us as teachers that exceptions and limitations are considered in the broadcasting treaty because we make regular use of broadcasted works for teaching and research. And we are very concerned while exclusive rights of broadcasters are in the process of being created, exceptions and limitations remain to be inadequately addressed. Few or mandatory permissive exceptions and the Rome Convention and WIPO copyright treaties.

Think about this for a moment really. If this Committee is truly committed to striking a balance and we have a lot of trust in this Committee that this is the case, then it would be essential to make the list of exceptions in SCCR 36/6 mandatory including for preservation, education, and research rights in the digital environment and for cross-border uses. We trust that you understand these challenges and that the voice of teachers and researchers will be taken into consideration by delegates in the negotiations ahead.
Chair: Innovarte? Geidi Lung from the WIPO Secretariat is going to read out the text of INNOVARTE in her lovely voice.
For INNOVARTE:

…Chairman, if the new instrument on broadcasting organizations were adopted, it should provide clarity and security on exceptions and limitations, which should and can be adopted by Member States. This is essential in order to avoid the deterioration resulting from the lack of exceptions to present affects various efforts of public interest that undermines the legit mass of the Internet property system and affects human technological and economic development of its Member States.

The Rome Convention, the instrument on which the new treaty on broadcasting is based has regard to permitted exceptions, provides a list that is not exhaustive. The Rome Convention, nor TRIPS submit broadcasting organizations to the rules of the three-step test, which is what the present test in negotiations is trying to do. The three-step test, because it's difficult to interpret. It imposes too many limitations for the countries thatneed to adopt the necessary exceptions and has been a barrier to the adoption of timely limitations, adapted to the needs of countries, which means it should not be the standard for the new instrument.

It is therefore essential that we follow the model of the Rome Convention as regards to exceptions. We should broaden its list to accommodate the needs of the 21 Century, including mapped mandatory public interest, inter alia, public health needs, libraries, and technological development.