On 21 January 2021 the People's Vaccine Alliance and Health Action International (HAI) sent an open letter to Dr. Tedros Adhanom Ghebreyesus, Director-General of the World Health Organization (WHO), expressing concern about the lack of political support and reported progress on the WHO's Covid Technology Access Pool (C-TAP).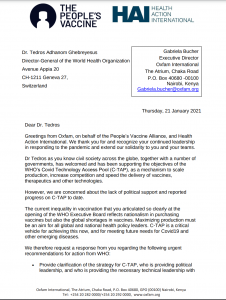 The open letter provided a number of concrete recommendations to facilitate the proper functioning of C-TAP as a mechanism to scale production, increase competition and speed the delivery of vaccines, therapeutics and other technologies. The text of the letter to Dr. Tedros can be found here: HE Dr Tedros – Letter from Peoples Vaccine Alliance and Health Action International.
The letter proposed the following recommendations to WHO.
Provide clarification of the strategy for C-TAP, who is providing political leadership, and who is providing the necessary technical leadership with regards practical issues for the transfer of know-how and technology for manufacturing;
A commitment to bi-weekly public briefings to report on the progress of CTAP;
The publication of clear guidelines and model agreements that C-TAP is seeking regarding the sharing of rights in inventions, data, biologic resources and know-how, including specifically the components of full technology transfer that C-TAP is seeking for each relevant technology;
Require licensees to commit to obtaining WHO prequalification and regulatory authorizations and to the equitable pricing and distribution of products;
Commit to full transparency of all technology transfer agreements with rights holders and with licensees.
Publish a report on global manufacturing capacity for each relevant COVID-19 medical technology, including each type of COVID-19 vaccine, with commentary of the measures necessary to bring a facility into GMP compliance for production for specific vaccines and other COVID-19 health technologies.
Publish current financial support for C-TAP and required funding for the pool to operate speedily and effectively.