The original proposal for the Marrakesh treaty, including the 2008 report of the drafters, is here.
---
Petitions
Videos from negotiations
See also: Pictures from WIPO SCCR negotiations on disabilities.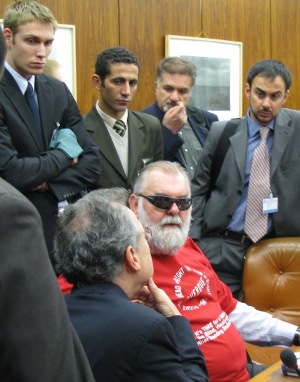 Chris Friend. November 4, 2008 SCCR 17 side event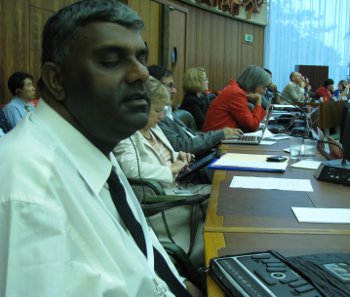 Jace Nair, SANCB, June 17, 2011, at SCCR 22
KEI's work on reading disabilities involves two separate projects. On a global level, KEI is working with the World Blind Union and others to advocate for a WIPO treaty for persons who are blind or have other reading disabilities.
On a national level, KEI is a member of the United States Reading Rights Coalition, which is concerned about efforts to disable text-to-speech functions in ebook readers, KEI also provides technical assistance to governments and civil society on reading disabilities projects, including the analysis and amendment of national copyright laws.
Update on the WIPO Treaty negotiations
December 17-18, 2012. WIPO Extraordinary General Assembly. Video Interviews, statements and blogs from the December 17-18, 2012 WIPO Extraordinary General Assembly. /node/1629
November 2012. Standing Committee on Copyright and Related Rights: Twenty-Fourth Session – (SCCR/25). Blogs: /node/1607
July 16 to 25, 2012 Standing Committee on Copyright and Related Rights: Twenty-Fourth Session – (SCCR/24). Video interviews and Blogs at SCCR24.
November 21 to December 2, 2011. Standing Committee on Copyright and Related Rights : Twenty-Third Session took place (Geneva, Switzerland). The Working Document on an International Instrument on Limitations and Exceptions For Visually Impaired Persons/Persons with Print Disabilities SCCR/23/7 is available here. KEI Blogs are at SCCR23.
June 2011. SCCR 22. During that meeting a joint "Proposal on an international instrument on limitations and exceptions for persons with print disabilities" was tabled by Argentina, Australia, Brazil, Chile, Colombia, Ecuador, the European Union and its Member States, Mexico, Norway, Paraguay, the Russian Federation, the United States of America and Uruguay. A copy of that proposal is available here, as SCCR/22/15 REV.1. Commentary from June 2011: The joint proposal was a major breakthrough, because it was proposed jointly by both developed and developing countries, and contained very few differences. There is, however, no agreement on whether this will a treaty or a soft recommendation. The SCCR will meet in November, and could then agree that it has a text that could be the basis of a treaty, or a soft recommendation. The publishers want this to be a soft recommendation. The WBU, KEI and others want it to be a treaty. The conclusions of SCCR 22 can be found here as: Conclusions
Some older news reports
Reports from the June 2011 SCCR 22 meeting
Reports of the EU Parliament support
Parliamentary questions and letters
Misc
---
Earlier, relevant documents included four separate proposals.
http://www.wipo.int/meetings/en/doc_details.jsp?doc_id=122732
Proposal by Brazil, Ecuador and Paraguay, Relating to Limitations and Exceptions: Treaty Proposed by the World Blind Union (WBU)
Document Code SCCR/18/5
Publication Date May 25, 2009

Which was elaborated in:
http://www.wipo.int/meetings/en/doc_details.jsp?doc_id=130505
Background Paper by Brazil, Ecuador and Paraguay on a WIPO Treaty for Improved Access for Blind, Visually Impaired and other Reading Disabled Persons
Document Code SCCR/19/13
Publication Date Dec 11, 2009

http://www.wipo.int/meetings/en/doc_details.jsp?doc_id=134392
Proposal by the African Group: Draft WIPO Treaty on Exceptions and Limitations for the Disabled, Educational and Research Institutions, Libraries
Document Code SCCR/20/11
Publication Date Jun 15, 2010
http://www.wipo.int/meetings/en/doc_details.jsp?doc_id=133815
Proposed by the Delegation of the United States of America: Draft Consensus Instrument
Document Code SCCR/20/10
Publication Date Jun 4, 2010
http://www.wipo.int/meetings/en/doc_details.jsp?doc_id=134412
Proposal by the Delegation of the European Union: Draft Joint Recommendation Concerning the Improved Access to Works Protected by Copyright for Persons with a Print Disability
Document Code SCCR/20/12
Meeting Code SCCR/20
Publication Date Jun 17, 2010
Misc stuff