KEI Policy Brief 2011:1
June 11, 2011, Revised August 15, 2011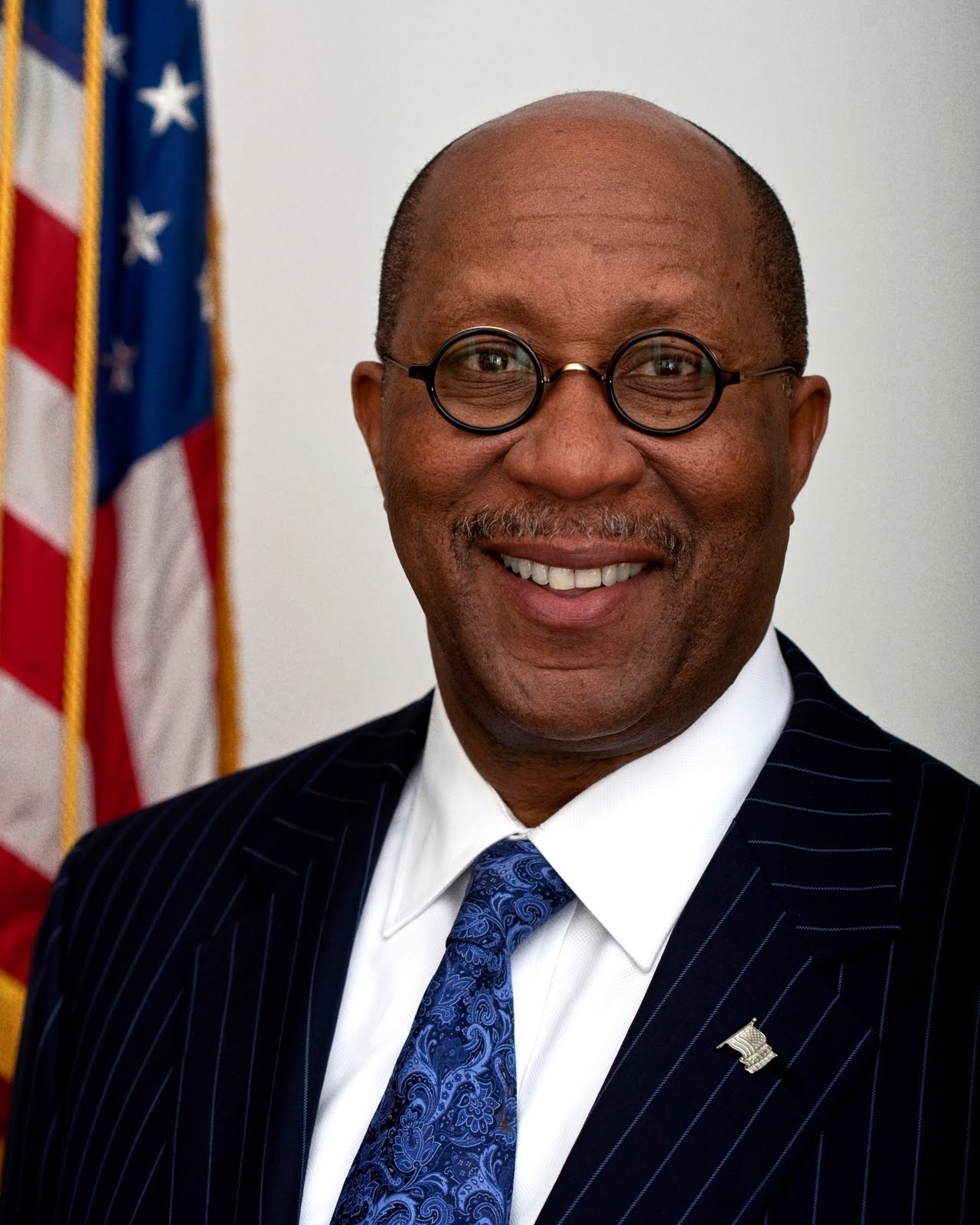 In May 2011, USTR head Ambassador Ron Kirk asked Least Developed Countries to "implement their TRIPS Agreement obligations for patent and data protection for pharmaceutical products" by 2016.
The Obama White House and Europe's top trade official, Karl De Gucht, both oppose a proposal to extend a WTO deadline to implement patent and test data rules on pharmaceutical drugs in "Least Developed Countries." The White House position was set out in the May 2011 USTR Special 301 Report on the adequacy and effectiveness of U.S. trading partners' protection of intellectual property rights (IPR). The LDC extension on pharmaceutical patents was also addressed in a May 16, 2011 letter from Karl De Gucht of DG-Trade to Andris Piebalgs, the EU Commissioner for Development.
Incomes are unequal. They are unequal within countries, and unequal between countries. These inequalities are important for trade policy. Many public health, human rights and development groups are concerned about trade rules that impose tough intellectual property protections on poor people.
Most of the world's population live in developing countries, where average incomes are low. According to the World Bank, in 2009, 1.117 billion persons lived in high-income countries, or roughly 16.5 percent of the World's population. In these countries, the 2009 per capita income was $37,990. Another 5.659 billion persons lived elsewhere, and had a per capital income of $2,959, just 7.7 percent of the average in high income countries. "Least Developed Countries" are a subset of developing countries. The UN refers to them as the "poorest and weakest" of the poor and weak. The decision to target such countries is an appalling shift in policy.
What are least developed countries?
Some developing countries are making considerable progress, in terms of governance and economic growth. Others are so poor and unstable the term "developing" is inadequate to describe their perilous condition. For the countries at the bottom, the UN created the category: "Least Developed Countries" or LDCs. Traditionally, countries defined as LDCs are eligible for special and differential treatment.
To put things into perspective, Haiti is the only country in Western Hemisphere that qualifies as an LDC. Poor countries such as Bolivia and Nicaragua are too well off to qualify. In Africa, Kenya, Cameroon and Côte d'Ivoire are also too well off. In Asia, countries like China, India, Thailand, Indonesia, and Malaysia are too well off. LDC's are countries like Ethiopia, Sierra Leone, Rwanda or Cambodia.
Least Developed Countries (LDCs) represent the poorest and weakest segment of the international community. Extreme poverty, the structural weaknesses of their economies and the lack of capacities related to growth, often compounded by structural handicaps, hamper efforts of these countries to improve the quality of life of their people. These countries are also characterized by their acute susceptibility to external economic shocks, natural and man-made disasters and communicable diseases. The current list of LDCs includes 48 countries; 33 in Africa, 14 in Asia and the Pacific and one in Latin America.
In 2009, these 48 countries had a combined population of 837 million, and an average per capita income of $639, just 1.7 percent of the average in high income countries. Collectively, LDC countries had about 12.4 percent of the global population, but just .9 percent of global income.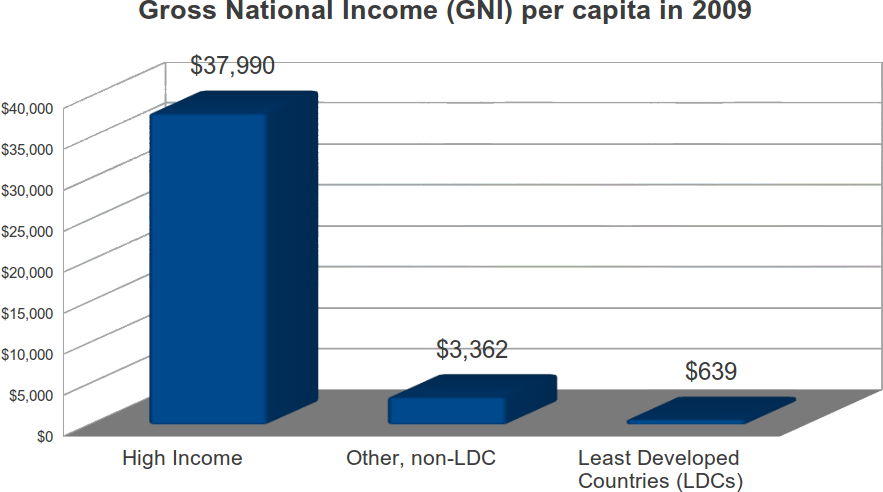 HIV/AIDS in LDCs
Both USTR and DG-Trade are influenced greatly by the lobbying of pharmaceutical companies, which is one reason for the policy shift. Some 9.2 million persons in LDCs are living with HIV, nearly 28 percent of the global total of 33.3 million. Beginning in 2003, as donors began to fund treatment programs for AIDS, LDC countries began to look like a market, and there has been a significant expansion of patent filing in LDC countries. However, someone needs to pick up the phone and talk to Ron Kirk and Karl De Gucht and explain who those donors are (mostly taxpayers in the U.S. and Europe), and why it is a mistake to drive up the price of AIDS drugs, at a moment when the international community is struggling to meet commitments to fund HIV treatment programs.
What does the WTO expect from LDCs as regards pharmaceutical drugs?
When the World Trade Organization (WTO) was created in 1995, all members, regardless of their level of development, were required to implement the Agreement on Trade Related Aspects of Intellectual Property, known as the TRIPS agreement. The TRIPS gave developing countries until 2005 to extend patents to pharmaceutical products. In 2001, paragraph 7 of the WTO Doha Declaration on TRIPS and Public Health included a waiver of that requirement for LDCs, until the year 2016.
DOHA WTO MINISTERIAL 2001: TRIPS, WT/MIN(01)/DEC/2

Declaration on the TRIPS agreement and public health, Adopted on 14 November 2001

7. We reaffirm the commitment of developed-country members to provide incentives to their enterprises and institutions to promote and encourage technology transfer to least-developed country members pursuant to Article 66.2. We also agree that the least-developed country members will not be obliged, with respect to pharmaceutical products, to implement or apply Sections 5 and 7 of Part II of the TRIPS Agreement or to enforce rights provided for under these Sections until 1 January 2016, without prejudice to the right of least-developed country members to seek other extensions of the transition periods as provided for in Article 66.1 of the TRIPS Agreement. We instruct the Council for TRIPS to take the necessary action to give effect to this pursuant to Article 66.1 of the TRIPS Agreement.
Most LDCs, including and in particular those in Sub-Saharan Africa, already had statutes that granted patents on pharmaceutical drugs. After the 2001 Doha Declaration, none repealed those obligations, but the Doha Declaration waiver did have practical benefits. The Global Fund to Fight AID, TB and Malaria, the World Bank and other institutions and NGOs took the position that the WTO waiver was effectively a compulsory license on patents on medicines for HIV/AIDS, and allowed treatment groups to import inexpensive generic versions of AIDS drugs.
Without the waiver, and the extensive use of generic drugs, the gap between the number of persons who need treatment and those who have treatment would have been larger. As treatment programs are now constrained by a lack a resources, these are life and death issues.
The USTR statement on LDCs and TRIPS
On May 1, 2011, USTR issued its annual Special 301 list. For the first time, USTR said it expected the LDC TRIPS waiver to end, and signaled the US was prepared to bring dispute resolution cases in the WTO, which could result in fines and other harsh sanctions against LDC countries not providing "patent and data protection for pharmaceutical products." The relevant TRIPS obligations will include both the granting of patents and data protection, and the enforcement of those rights.
2011 Special 301 Report

Ambassador Ronald Kirk, Office of the United States Trade Representative

Page 21.

Implementation of the WTO TRIPS Agreement

Recognizing the particular challenges faced by least-developed countries (LDCs), in 2005 the United States worked closely with them and other WTO members to extend the implementation date for these countries from January 2006 to July 2013. The LDC members in turn pledged to preserve the progress that some have already made toward TRIPS Agreement implementation. Additionally, the LDC members have until 2016 to implement their TRIPS Agreement obligations for patent and data protection for pharmaceutical products, as proposed by the United States at the Doha Ministerial Conference of the WTO. The United States looks forward to the successful completion of this transition.

The United States will continue to work with WTO members and expects further progress in the near term towards completing their TRIPS Agreement implementation process. However, in those instances in which additional progress is not achieved, the United States will consider alternative means of encouraging implementation, including the possibility of recourse to WTO dispute settlement.
Donors to the Global Fund for Fighting AIDS, TB and Malaria
One of the primary sources for AIDS treatment funding in LDCs is the Global Fund for Fighting AIDS, TB and Malaria. While the Global Fund receives funding from a variety of public and private sources, including for example, the Bill and Melinda Gates Foundation, 95 percent of the $19.1 billion it has actually collected comes from governments.
The United States is the largest donor to the Global Fund, have donated $5.1 billion so far, or 27 percent of all donations.
Collectively, the 27 members of the European Union have donated $9.8 billion, or 51 percent of the total.
More than half of the European Union contributions come directly from three countries: France, the UK and Germany.
Together, the U.S. and the EU have contributed 78 percent of the total donations to the Global Fund.
The three largest donors outside of the US and the EU are Japan, Canada and Norway.
US, the EU, Japan, Canada and Norway collectively have contributed 91 percent of the funds collected by the Global Fund.
UNITAID
Another important institution working in LDCs is UNITAID. UNITAID funds the development and use of diagnostics, drugs and other medical technologies for HIV/AIDS, malaria and tuberculosis in 94 countries, including 40 of the 48 LDC countries.
Like the Global Fund, most of the UNITAID resources come from governments. UNITAID was originally launched by the governments of Brazil, Chile, France, Norway and the United Kingdom in September 2006, and its membership has subsequently grown to 29 countries, plus the Bill and Melinda Gates Foundation. (A complete list is available here).
In 2010, 97 percent of the funding for UNITAID came from governments.
Within the European Union, France, the UK, Spain, Cyprus and Luxembourg are donors.
France was the largest donor, contributing more than 60 percent of the cash received in 2010.
France, the UK, Norway and Spain collectively provided 91 percent of the cash received by UNITAID in 2010.
PEPFAR and LDC countries
The U.S. President's Emergency Plan for AIDS Relief (PEPFAR) is a major foreign policy initiative by the United States. Currently, PEPFAR supports treatment for over 3.2 million people. In addition to having already made $5.1 billion in donations to the Global Fund for Fighting AIDS, TB and Malaria, PEPFAR supports a number of other initiatives to fund AIDS.
On July 30, 2008, the Tom Lantos and Henry J. Hyde United States Global Leadership Against HIV/AIDS, Tuberculosis, and Malaria Reauthorization Act of 2008 became law, authorizing up to $48 billion from 2009 to 2013 to combat global HIV/AIDS, tuberculosis, and malaria. The Act authorized PEPFAR to establish "Partnership Frameworks" with several countries, where the U.S. has provided extensive funding of treatment. Nine of the twenty two Partnership countries are LDCs.
Angola Partnership Framework (August 2009)
Democratic Republic of the Congo Partnership Framework (April 2010)
Ethiopia Partnership Framework (October 2010)
Lesotho Partnership Framework (August 2009)
Malawi Partnership Framework (May 2009)
Mozambique Partnership Framework (August 2010)
Rwanda Partnership Framework (June 2010)
Tanzania Partnership Framework (March 2010)
Zambia Partnership Framework (November 2010)
The U.S. Interagency Review process
The lead agency for the Special 301 Report and the TPPA trade negotiation is the United States Trade Representative (USTR), which is headed by Ambassador Ron Kirk. Kirk is a former Mayor of Dallas, once ran for the democratic nomination for U.S. Senate from Texas, and worked as a corporate lobbyist for energy and other companies. But while Kirk heads USTR and has a central role in trade policy, the U.S. government decision to target LDC countries for stronger patent protection on pharmaceutical drugs was cleared by an inter-agency review process that included many other federal agencies, such as State (including USAID), Commerce (including USPTO), DHHS and Treasury. Some of these agencies should have flagged the LDC extension as both morally repugnant and economically unwise, as it will undermine U.S. efforts to finance AIDS treatment in several LDC countries.

Nils Daulaire of DHHS, Rajiv Shah of USAID, David Kappos of USPTO and members of Congress were consulted on the USTR decision to push for patents on pharmaceutical drugs in LDC countries.
The DG Trade statement on LDCs and TRIPS
KEI receively published a copy of a May 16, 2011 letter from Karl De Gucht, the European Commission for trade, that was addressed to Andris Piebalgs, the EU Commissioner for Development. In the letter, De Gucht said: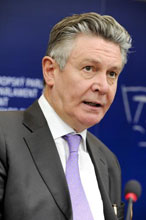 Karl De Gucht opposes LDC waiver on drug patents
"I am aware that the UK has called for an extension of the TRIPS waivers for LDC's (2013/2016). A possible extension of these waivers merits some reflection may have some benefits, but we believe that it is too early for the Commission to openly take a position at this moment in time, considering in particular the on-going DDA negotiations. Moreover, I am not in favor of a one-sided statement at the LDC-IV, or any other conference, as this would entail no benefits for the EU/Commission, other than the announcement itself."
More on this exchange is available here. De Gucht seeks to dismiss the importance of the waiver by saying that DG Trade has never opposed the granting of compulsory licenses in developing countries (a statement that is at best overstated and more candidly, not true). However, from experience, it is extremely difficult to obtain lawful compulsory licenses in LDC countries, many of which have a low capacity for dealing with the legal issues, and are vulnerable to lobbying and pressure from private sector patent owners, as well as outright corruption. For these reasons, the LDC waiver is considered quite important by AIDS treatment experts.
DG-Trade will have to negotiate its position with other departments in the European Commission, as well as the European Parliament and the Council of Europe. However, the fact that De Gucht has expressed opposition to the TRIPS waiver is also shocking, given the potential consequences on access medicines, including but not limited the 9.2 million persons living with HIV in LDCs.
LDCs and economies of scale and scope for the supply of generic medicines
The 9.2 million persons living with HIV in LDCs now constitutes an important market for generic AIDS drugs.
Most of persons living in developing countries who are receiving antiretroviral treatment for HIV/AIDS are using generic medicines, including in particular a combination of d4T+3TC+NVP, an AIDS cocktail that is no longer widely used in higher income countries. Treatment experts say that there is an urgent need to migrate patients to newer AIDS drugs, to deal with adverse effects, drug resistance and to use regimes that are easier to use in resource poor settings.
The prices of the new AIDS drugs are often high from patent holders. The prices of generic medicines vary, depending in part of the size of the generic market. There are important economies of scale and scope in the manufacturing of generic AIDS drugs. If LDC countries increase patent and test data protection for AIDS drugs, the generics market will shrink. This will not only harm LDCs by requiring the substitution of higher cost brand name drugs, but also by driving up the per unit costs for generic suppliers in those LDC countries with no patents or that overcome patent barriers though the issuance of compulsory licenses.
Any closing off of the market for generics in LDCs will also have an important impact on the cost structure for drugs sold in non-LDC developing countries, such as South Africa, Thailand, Kenya, Ghana, the Philippines or Brasil, because the generic producers will have a smaller scale of operation.
Large pharmaceutical companies fully appreciate the importance of economies of scale in the production of medicines. The restrictions on cross border uses of compulsory licenses on patents in the TRIPS, and the lobbying by drug companies for a restrictive set of procedures to implement paragraph 6 of the Doha Declaration on TRIPS and Public Health on the export of medicines to countries without sufficient manufacturing capacity, are part of a larger strategy to marginalize generic manufacturers, so they are less competitive.
The proposals for the Advanced Marketing Commitment (AMC) and Health Impact Fund (HIF) subsidies are also both designed to marginalize generic drug manufacturers.
To our knowledge, no agency in the US government or the European Commission has done any serious analysis of the economies of scale of manufacturing drugs for HIV/AIDS, in the context of the larger policy goal of supporting treatments for 15 million persons by 2015. It will certainly be the case that measures to shrink the market for generic drugs in LDC countries will harm the global effort to achieve universal access, by:
driving up the per unit costs for manufacturing generic AIDS drugs,
reducing the numbers of generic competitors,
forcing LDC countries to consume a larger share of the Global Fund, UNITAID and PEPFAR budgets,
reducing the bargaining power of other developing country governments, and
making it more difficult to transfer the costs of treatment programs from donors to developing country governments.
Policy Coherence in the U.S. and the European Commission
There is an appalling disconnect between the policies embraced by USTR and DG-Trade, and the interests of the taxpaying and voting public in those countries. To the extent that taxpayers in the United States and Europe are now responsible for funding global treatment efforts for HIV/AIDs and other global health problems, high prices for HIV/AIDS medicines are a negative, rather than a positive, even from the perspective of trade policy.
As noted earlier, LDC countries represent just .9 percent of global incomes. The benefits of ending the WTO LDC waiver on drug patents has to be negative, for anyone who spends any time looking at the net impact on taxpayers in the United States and Europe.
USTR and DG-Trade also need to recognize the moral and political dimension of the HIV/AIDS crisis. PEPFAR, the Global Fund and UNITAID are now considered successful programs, generating considerable good will abroad, and popular with elected officials in different political parties. U.S. taxpayers are willing to endorse $48 billion in spending on PEPFAR, and European taxpayers support billions in funding of the Global Fund and UNITAID. Why should trade officials put these humanitarian programs at risk, and who do they expect to benefit from an end of the WTO waiver on drug patents in LDC countries?
What political failures in the United State and Europe have lead to such failures of policy? Why did the White House back such a wrong headed policy, and why didn't USAID, DHHS, Treasury, OMB, Commerce or USPTO intervene? Why is the Congress, struggling to maintain spending on foreign aid, oblivious to the ramifications of ending the LDC waiver on drug patents? Why does DG-Trade not see the LDC waiver on drug patents as essential for keeping EU commitments to achieving goals regarding access to HIV drugs?
---
The official list of the LDC countries is here: http://www.unohrlls.org/en/ldc/related/62/. A useful UN background document on LDCs is here: http://www.unohrlls.org/en/ldc/25/. These are the population and per capita income for the LDC countries.
The UN defined 48 Least Developed Countries, by region
| | | | |
| --- | --- | --- | --- |
| LDC Country | Region | 2009 Population | 2009 per capita income |
| Angola | Africa | 18,497,632 | $3,750 |
| Burundi | Africa | 8,303,330 | $150 |
| Benin | Africa | 8,934,985 | $750 |
| Burkina Faso | Africa | 15,756,927 | $510 |
| Central African Republic | Africa | 4,422,397 | $450 |
| Congo, Dem. Rep. | Africa | 66,020,365 | $160 |
| Comoros | Africa | 659,098 | $810 |
| Djibouti | Africa | 864,202 | $1,280 |
| Eritrea | Africa | 5,073,279 | $320 |
| Ethiopia | Africa | 82,824,732 | $330 |
| Guinea | Africa | 10,068,724 | $370 |
| Gambia, The | Africa | 1,705,212 | $440 |
| Guinea-Bissau | Africa | 1,610,746 | $510 |
| Equatorial Guinea | Africa | 676,273 | $12,420 |
| Liberia | Africa | 3,954,979 | $160 |
| Lesotho | Africa | 2,066,919 | $980 |
| Madagascar | Africa | 19,625,030 | $430 |
| Mali | Africa | 13,010,209 | $680 |
| Mozambique | Africa | 22,894,294 | $440 |
| Mauritania | Africa | 3,290,630 | $990 |
| Malawi | Africa | 15,263,417 | $290 |
| Niger | Africa | 15,290,102 | $340 |
| Rwanda | Africa | 9,997,614 | $490 |
| Sudan | Africa | 42,272,435 | $1,220 |
| Senegal | Africa | 12,534,228 | $1,040 |
| Sierra Leone | Africa | 5,696,471 | $340 |
| Somalia | Africa | 9,133,124 | |
| Sao Tome and Principe | Africa | 162,755 | $1,130 |
| Chad | Africa | 11,206,152 | $600 |
| Togo | Africa | 6,618,613 | $440 |
| Tanzania | Africa | 43,739,051 | $500 |
| Uganda | Africa | 32,709,865 | $460 |
| Zambia | Africa | 12,935,368 | $960 |
| Afghanistan | Asia | 29,802,724 | |
| Bangladesh | Asia | 162,220,762 | $580 |
| Bhutan | Asia | 697,335 | $2,020 |
| Cambodia | Asia | 14,805,358 | $650 |
| Kiribati | Asia | 98,045 | $1,830 |
| Lao PDR | Asia | 6,320,429 | $880 |
| Myanmar | Asia | 50,019,775 | |
| Nepal | Asia | 29,330,505 | $440 |
| Solomon Islands | Asia | 523,170 | $910 |
| Timor-Leste | Asia | 1,133,594 | |
| Tuvalu | Asia | | |
| Vanuatu | Asia | 239,788 | $2,620 |
| Samoa | Asia | 178,846 | $2,840 |
| Yemen, Rep. | Asia | 23,580,220 | $1,060 |
| Haiti | Latin America | 10,032,619 | |
---
Published: 11 June 2011