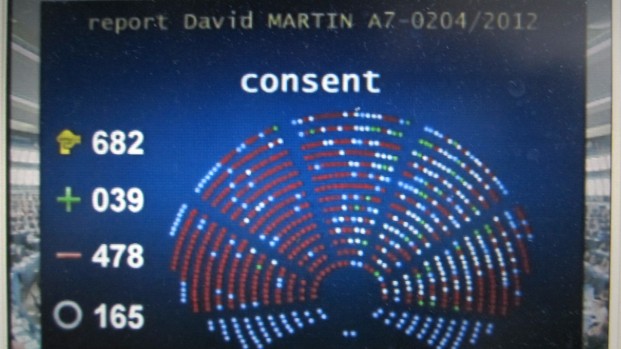 The vote to reject a delay of the final ACTA vote was 420 Vs 255, followed by the rejection of ACTA by a vote of 478 to 39.
KEI Director James Love statement:
"There is real democracy in Europe, and a real parliament. And wow, what a social movement for fundamental rights! ACTA could never overcome its deficit in legitimacy and perspective. The US Congress has to take a deep breath and reign in USTR and other rogue anti-democratic agencies that are treating the public like enemies of the state."
Statement by former MEP and TACD staff David Hammerstein, is from his blog on the vote:
Today in Strasbourg a massive majority of the European Parliament voted to reject ACTA. It is the first time the European Parliament has rejected an international treaty already signed by the Eurpean Commission (and by 22 of 27 EU member states). The power of the EU´s legislative branch has been clearly reinforced as it has not been a rubber-stamp for questionable EU trade proposals as it has been in the past. Of even greater importance, European civil society has emerged as a very powerful actor that can no longer be dispatched by EU institutions with the traditional "participate a little, then we´ll decide with our industry buddies."
Here is a quote from MEP David Martin's blog:
ACTA is now dead in the EU thanks to the support of the European Parliament for my Report. I am very pleased that the Parliament has followed my recommendation and rejected ACTA. The Treaty was too vague and was open to misinterpretation. I will always support civil liberties over intellectual property rights protection.

This is a historic day in terms of European politics. For the first time the European Parliament has used the powers granted by the Lisbon Treaty to reject an International Trade Agreement. The Commission and the Council will now be aware that they cannot overrun the Parliament, which represents and defends citizens' rights. This vote represents true democracy in action and the coming of age of the European Parliament.

I regret the fact that the EPP (the Conservative Grouping in the European Parliament) has consistently disregarded people's concerns and the advice of the Parliament on ACTA's challenge to fundamental rights. They tried to bring secrecy and delay to this vote until the very last minute. Fortunately we were able to build a strong majority and defeated their call for a postponement.

Now it is time to look forward and tell the Commission that we are willing to work hand in hand to fight counterfeiting wherever we find it. This time the Commission must act with public opinion and put aside copyright issues. They can be dealt with separately and at a later date and after further consultation.

ACTA was wrong from the start. It was negotiated in secret, and tries to put together incomparable elements in the same Treaty; incompatible elements such as counterfeit goods and on-line copyright.

On top of that, the lack of clarity sparked fears among internet users and many experts alerted us to the risks for fundamental rights – we listened and acted accordingly.
Jérémie Zimmermann of La Quadrature du Net, tweet after the vote:
We must build on the ruins of ?#ACTA?! We must build a copyright regime where our cultural practices will be encouraged instead of combatted
Zimmermann quoted in Le Monde:
"Il n'y a pas un Internet américain, un Internet européen : la carte des Internets n'a pas de bordures. Aujourd'hui, on assiste à une mobilisation globale, un réseau dans lequel chacun de nous est un nœud. C'est cette leçon-là qui doit durer au-delà d'ACTA." Translated by Google translate as: "There is not a U.S. Internet, a European Internet: the map of Internets has no borders. Today, there a global mobilization, a network in which each of us is a node. This is the lesson then that should last beyond ACTA. "
Rick Falkvinge, founder of the Swedish and first Pirate Party, which has representation in the European parliament and has spawned Pirate Parties in more than 50 other countries, in his blog:
This is a day of celebration. This is the day when citizens of Europe and the world won over unelected bureaucrats who were being wooed and lobbied by the richest corporations of the planet. The battleground wasn't some administrative office, but the representatives of the people – the European Parliament – which decided in the end to do its job beautifully, and represent the people against special interests.
MEPs from the Greens/EFA group hold up a sign saying "Hello Democracy, Goodbye ACTA: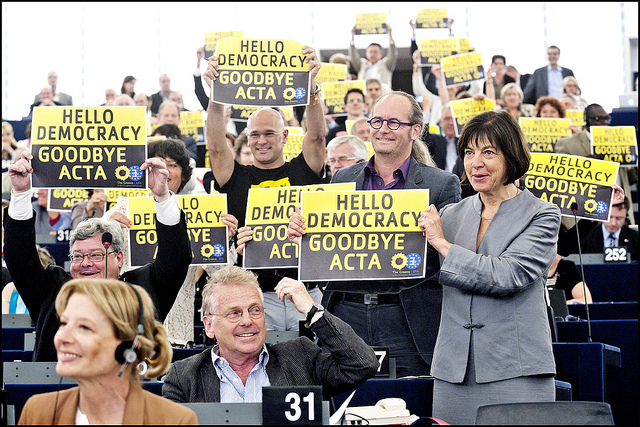 Statement by Aziz ur Rehman, Intellectual Property Advisor for the MSF Access Campaign:
"We are relieved that the EU Parliament has struck down ACTA, The way it was written, ACTA would have given an unfair advantage to patented medicines, and restricted access to affordable generic medicines to the detriment of patients and treatment providers alike. . .

The stringent provisions in ACTA would also have targeted third parties – including treatment providers like MSF – by exposing them to the risk of punitive action in trademark and patent infringement allegations.

Following the rejection of ACTA, the European Commission should review similarly harmful intellectual property provisions being pursued in other agreements, including in free trade negotiations. One such current negotiation is with India, one of the world's biggest exporters of generic medicines, often referred to as 'the pharmacy of the developing world'.

The EU Trade Commissioner Karel de Gucht should take heed – the vote on ACTA has shown that these harmful policies are unacceptable to European parliamentarians and some EU member states. The Commission should rethink its approach on intellectual property enforcement measures in free trade and other agreements."
Ante Wessels, analyst, Foundation for a Free Information Infrastructure (FFII), writes:
Today, the European Parliament rejected the Anti-Counterfeiting Trade Agreement (ACTA) in a 478 to 39 vote with 165 abstentions.

Before the vote the European People's Party requested a vote on postponement of the vote. The Parliament rejected postponement in a 420 to 255 vote with 9 abstentions.

This is a major victory for civil society, Internet freedom, access to medicine and knowledge, and innovative companies. Before people had computers, it took an effort to infringe copyright. One had to make a physical copy. Since people have computers, infringement is often just one mouse click away. Criminalizing whole societies is not the solution. It is essential that societies retain the policy space to find proportional solutions.

As an awareness project, ACTA is a big success. More and more people realize that maximizing profits at the expense of access to knowledge and space to innovate is wrong. The world deserves better solutions.
Leïla Bodeux, Oxfam's spokesperson:
"Today marks a real turning point, a victory for poor people over the interests of big pharmaceutical companies. ACTA could have made life-saving drugs much costlier for the world's poorest, resulting in devastating consequences for their health. With Europe's rejection, we're now hugely relieved that ACTA is going nowhere. ACTA would have limited the legitimate movement of generic medicines by making companies producing affordable drugs subject to criminal prosecutions and having their medicines seized. The European Commission, who has been a significant driving force behind ACTA, must now refrain from seeking to introduce any other rules that would endanger the lives of people needing affordable medicines in the developing world.
Statement by Joe McNamee, Executive Director of EDRi:
"ACTA was a bad proposal on every level. The drafting process was closed and undemocratic. The final text would have prevented a positive reform of Europe's profoundly broken copyright system for years to come. Today's victory is an important milestone for internet freedoms in Europe and cross the globe."

What is most surprising about ACTA is the fact that it took so long to kill it. It has been attacked by every independent organisation that has issued an opinion – the Organisation for Security and Cooperation in Europe (OSCE), as a democracy watchdog, the European Economic and Social Committee as a voice for business, numerous NGOs around the world as a voice for civil society, jurists, academics as well as 13 winners of the prestigious Sakharov Prize for Freedom of Thought.

And still, despite all of evidence to the contrary, the position of Commissioner De Gucht is not to think again, not to accept what is obvious to everyone except him, not even to accept the vote of the European Parliament.

We have to pay huge tribute to the people who protested on the streets of Europe on those cold February days. EDRi and others worked for years on leaks, rumours and never-ending meetings with the Commission and Parliament. Citizens heard our warnings and demanded that the EU defend rights over monopolies, citizens over corporations, democracy over dogma. Thank you to all protesters for your part in an historic success."
EU Trade Commissioner Karel De Gucht, in a BBC Report:
"Today's rejection does not change the fact that the European Commission has committed itself to seeking answers to the questions raised by the European public. The European Commission will continue to seek the legal opinion of the European Court of Justice on whether this agreement harms any of the fundamental rights of European citizens – including freedom of speech. European citizens have raised these concerns and now they have the right to receive answers. We must respect that right."
Loz Kaye, leader of the UK Pirate Party:
"The European Parliament vote is a triumph of democracy over special interests and shady back-room deals, Without this opposition, our representatives would have waved this agreement through. It is now clear that it is becoming increasingly politically poisonous to be 'anti-internet'."
Mike Rispoli of Access.
"Access is ecstatic that the Parlament today, by an overwhelming majority, said 'No' to ACTA, delivering the long-awaited fatal blow to this dangerous agreement."
Michael Giest, in his blog:
The European developments have had a ripple effect, with the recent Australian parliamentary committee recommendation to delay ACTA ratification and the mounting opposition around the world. ACTA is not yet dead – it may still eke out the necessary six ratifications in a year or two for it to take effect – but it is badly damaged and will seemingly never achieve the goals of its supporters as a model for other countries to adopt and to emerge as a new global standard for IP enforcement. That said, ACTA supporters will not take today's decision as the final verdict. In the coming weeks and months, we can expect new efforts to revive the agreement within Europe and to find alternative means to implement its provisions. That suggests the fight will continue, but for today, it is worth celebrating how the seemingly impossible – stopping a one-sided, secretly negotiated global IP agreement – became possible.
European Publishers Council Executive Director Angela Mills Wade, quoted in IP-Watch:
"The European Parliament has totally ignored proper judicial procedure. It has given in to pressure from anti-copyright groups despite calls from thousands of companies and workers in manufacturing and creative sectors who have called for ACTA to be signed in order that their rights as creators be protected."