Yesterday I wrote about the USPTO blocking KEI and many other NGOs, blogs and news organizations from their public wifi service. The USPTO says this practice has been discontinued, as of last evening (more here: /node/1548) but I found the issue interesting enough to follow up a bit. What I have found is more troubling than the initial case described yesterday.
The company providing the filtering services to the USPTO is Blue Coat (http://bluecoat.com). Blue Coat offers businesses, schools, federal agencies, foreign governments and others many different possible filters, and these are used in a variety of agency settings, including to filter content available to federal employees. This is how Blue Coat describes the "Political/Activist" filter:
Political/Activist Groups
Sites sponsored by or that provide information on political parties, special interest groups, or any organization that promotes change or reform in public policy, public opinion, social practice, or economic activities.
A different filter, that we have not explored, illustrates the wide range of topics and value judgements that organizations and governments contract out to Blue Coat.
Alternative Spirituality/Belief

Sites that promote and provide information on a wide range of non-traditional and/or non-religious spiritual, existential, experiential, and philosophical belief systems. Includes sites related to atheism, agnosticism, and mysticism; sites related to quasi-religious, philosophical or spiritual belief systems and practices that do not include formally established religious meetings, places of worship, organizational structure, or dogma; and sites that endorse or offer information about affecting or influencing real events through supernatural or magical means. Also includes sites that discuss or deal with paranormal or unexplained events. This category does not include sites centered around traditional, organized religious belief, practice, and observance (Religion).
These is just two of dozens of filters that Blue Coat manages. (See list of basic U.S. categories here).
What types of web sites are blocked by the Blue Coat filters? Well, lots, but it is not obvious what gets you in or out of the list. For example, as regards the Political/Activist filter, apparently corporate trade associations like the Chamber of Commerce, MPAA, RIAA or PhRMA are out, but critics of strong IPR protection are often in. Here are a few examples of cases where the use of particular Blue Coat filters have been questioned.
1. AFL-CIO is considered "Political/Activist." US Chamber of Commerce and the National Right to Work Legal Defense Foundation are considered Government/Legal, a category rarely filtered.
2. http://www.atheistnexus.org/forum/topics/blue-coat-website-rating
July 29, 2011. Posted by Scott. Blue Coat website rating system
It appears that the Army NIPR system in Korea is using a new filtering system to block websites. Its sad to say that Atheist Nexus is on the blocked list. . . .We are currently labeled as Political/Activist Groups and Social Networking.
3. The ACLU has complained to the Prince William County Public Schools that Blue Coat blocks access to sites about Gay and Lesbian related context. Ironically, the ACLU is also blocked by Blue Coat under the Political/Activist filter.
4. http://www.patentlyo.com/patent/2010/04/patent-absurdity-the-movie.html
In 2010, there was a report that Jamie King's film critical of software patents was blocked to USPTO employees.
xmnr said…
Movie is blocked by the USPTO web filter without explanation 🙁
5. http://advocacy.globalvoicesonline.org/2011/04/21/us-national-science-foundation-blocking-gv-advocacy/
April 20, 2011. Jillian York, US National Science Foundation Blocking GV Advocacy.
Recently, the Global Voices team learned that this site, http://advocacy.globalvoicesonline.org, is blocked at the headquarters of the National Science Foundation (NSF) in Washington, D.C. As is common practice for many companies and organizations, the NSF uses filtering software to block a number of websites. Such filtering typically targets pornography and illegal content, but many organizations take the practice further. . . .
6. http://www.ethanzuckerman.com/blog/2011/04/20/us-national-science-foundation-blocks-global-voices-advocacy-website/
April 20, 2011. US National Science Foundation blocks Global Voices Advocacy website
I'm pretty surprised to learn that the scientists at NSF are working in a filtered internet environment, and that the filtering is so aggressive that discussion of internet filtering and circumvention can't be discussed. One wonders whether the State Department might consider offering some trainings for the National Science Foundation so that employees there can learn side by side with Chinese dissidents how to overcome filtering and learn about State Department sponsored research on internet filtering. Maybe we can sneak into the building with Tor on USB keys and clandestinely smuggle them to oppressed US scientists.
7. Several blogs and new stories about Blue Coat's filtering technology use in Syria and Burma.
8. http://www.infosecblog.org/2010/12/the-webfilter-and-the-wikileak/
This is a December 15, 2010 discussion of early discussions of blocking access to wikileaks.org. Wikileaks is currently blocked as part of Political/Activist Groups.
9. http://www.susanohanian.org/outrage_fetch.php?id=608
November 9, 2009. Susan Ohanian
I have known for several years that my website was banned in the Aldine Texas school district. I waited until they won the 2009 Broad Prize for Urban Education before registering a complaint. I admit I find it a bit delicious that a Broad Prize-winning school district would censor a website given the NCTE George Orwell Award for Distinguished Contribution to Honesty and Clarity in Public Language, the only Website ever so honored. When a user attempted to access "No Child Left Behind: Costs and Benefits" by William J. Mathis Phi Delta Kappan, May 2003, they sent me a screen shot of this message that appeared on the computer screen.

=====================================
Access to this web page is restricted at this time

Your attempt to access the requested site may be in violation of Aldine ISD policy and has been restricted by the Technology Services Department.

Site Category: "Education; political/Activist Groups"

Blocked web page: http://susanohanian.org/show_nclb_outrages.html?id=74

IP address: 10.125.100.6
================================
---
As noted above, several trade associations that represent corporations are typically not considered Political/Activist. Organizations that represent consumer, worker or citizen interests often are.
NGOs blocked as Political/Activist
AgainstMonopoly.Org


ACLU.Org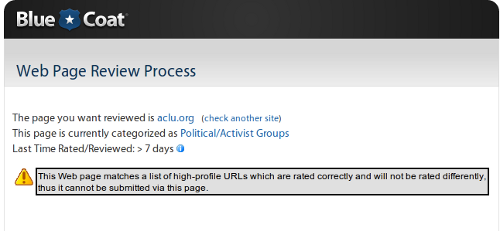 AFL-CIO.Org


EFF


Heritage Foundation


Global Voices


KEIOnline.Org


League of Woman Voters


Public Citizen (citizen.org)


NAACP.Org


NOW.org


Sierra Club


Southern Poverty Law Center


TPPWatch.org


News sites and blogs blocked as Political/Activist
DailyKos.Com


Firedoglake.com


Redstate.COm


RushLimbaugh.Com


TPM


NGOs not blocked as Political/Activist
US Chamber of Commerce


National Right to Work Legal Defense Foundation


Public Knowledge


Bio.Org


IIPI.Org


IPI.Org


PhRMA


MPAA


Federalist Society


Cato Institute


CharlesKochInstitute.Org


Soros.Org


AynRand.Org


Heartland.Org


News outlets and blogs not blocked as Political/Activist
The Blaze


The Daily Caller


Additional links
http://sitereview.bluecoat.com/sitereview.jsp
http://www1.k9webprotection.com/support/overview
How to Bypass the Blue Coat Web Filter, http://www.ehow.com/how_6927787_bypass-blue-coat filter.html
K9 BLUECOAT FILTER? HOW DO I GET PASSED IT , http://answers.yahoo.com/question/index?qid=20071001100758AAOvP8C
June 8, 2011. ACLU. Don't Filter Me – ACLU Letter to Blue Coat Solutions http://www.aclu.org/lgbt-rights/dont-filter-me-aclu-letter-blue-coat-solutions
October 17, 2011 online. Published in Print: October 19, 2011, as When Educational Content Gets Blocked. ACLU Puts Pressure on Districts to Ease Internet Filtering. ACLU puts legal pressure on districts to open filters on LGBT material. http://www.edweek.org/dd/articles/2011/10/19/01filter.h05.htm
October 22, 2011. Sari Horwitz, Syria using American software to censor Internet, experts say. Washington Post. http://www.washingtonpost.com/world/national-security/syria-using-american-software-to-censor-internet-experts-say/2011/10/22/gIQA5mPr7L_story.html
October 28, 2011. Elinor Millis, Blue Coat confirms Syria used its Web filtering devices. CNET. Following reports, Blue Coat says Syria was indeed censoring the Web with its filtering devices. But the company adds that it doesn't know how the gadgets ended up in Syria despite a trade embargo. http://news.cnet.com/8301-27080_3-20127340-245/blue-coat-confirms-syria-used-its-web-filtering-devices/
October 31, 2011. Hamed Aleaziz. After MoJo Investigation, US Company Admits Its Technology Used in Syria. Mother Jones. http://www.motherjones.com/mojo/2011/10/blue-coat-admits-syria-connection
November 9, 2011. Andy Greenberg, Researchers Spot Blue Coat Web Control Gear In Another Repressive Regime: Burma. Forbes. http://www.forbes.com/sites/andygreenberg/2011/11/09/researchers-spot-blue-coat-web-control-gear-in-another-bad-regime-burma/
November 11, 2011. Khaled Waleed, What was iraq's role in the export of banned us-made web watching gear to syria? Niqash. http://www.niqash.org/articles/?id=2942
December 2, 2011. Hamed Aleazizm. Did US Firm Lie to Reporters About Supplying Syrian Regime? Mother Jones. An editor at Slashdot says Blue Coat Systems misled him about whether the firm's internet filtering systems were being used by Syria. http://www.motherjones.com/politics/2011/11/blue-coat-systems-slashdot-syria
December 16, 2011. Paul Sonne And Steve Stecklow. U.S. Restricts U.A.E. Firm for Web Filter Sale to Syria.
http://professional.wsj.com/article/SB10001424052970204844504577100550048032714.html
December 22, 2011. Easiest way to disable Blue Coat proxy filter. NOT K9 – YouTube – This is the easiest way to stop blue coat proxy filter, needs no programs, and takes 2 minutes or less. Note: this doesn't work with k9. www.youtube.com/watch?v=ksZAs1zPQ3A
July 16, 2012. Martyn Williams, IDG News Service, Blue Coat Software Allows Blocking, Control of Mobile Apps. PC World
http://www.pcworld.com/article/259278/blue_coat_software_allows_blocking_control_of_mobile_apps.html
August 15, 2012. Nouri's spying on political rivals garners more attention. http://thecommonills.blogspot.com/2012/08/nouris-spying-on-political-rivals.html
August 29, 2012. Sean Gallagher. Big brother on a budget: How internet surveillance became so cheap. Wired.co.Uk http://www.wired.co.uk/news/archive/2012-08/29/dpi-internet-surveillance
September 18, 2012. USPTO blocks web access to "Political/Activist Groups" including KEI, ACLU, EFF, Public Citizen, Redstate, DailyKos. http://www.keionline.org/node/1548
September 18, 2012. The USPTO's Reality Distortion Field: Web Filter Blocks Critics Like EFF, Welcomes Maximalist Lobbyists. http://www.techdirt.com/articles/20120918/12131620417/usptos-reality-distortion-field-web-filter-blocks-critics-like-eff-welcomes-maximalist-lobbyists.shtml