Update: english translation of letter now available at end this blog.
Below is an April 28, 2016 letter from the Embassy of Colombia in Washington, DC, to Alejandro Gaviria, Ministro de Salud, the Minister of Health in Colombia, reporting on a meeting between embassy officials and Everett Eissenstat, the Chief International Trade Counsel for the U.S. Senate Committee on Finance, where Eissenstat conveyed his views on the negative consequences for Colombia if they decide to issue a compulsory license on patents that Novartis holds on the cancer drug Glivec. (PDF copy here).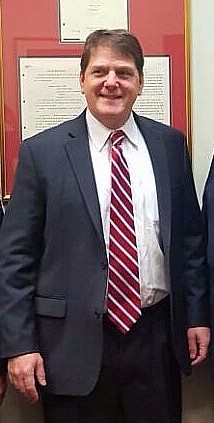 Everett Eissentstat, Chief International Trade Counsel for Senate Finance Committee, former Assistant U.S. Trade Representative for the Americas at USTR.
Eissenstat presented those consequences as a result of drug companies exercising their influence on members of the US Congress. Among the threats described in the letter from the Embassy are findings that the action would violate the US Colombia Free Trade Agreement, and would result in withdrawal of support for Paz Colombia, a peace process initiative.
Yesterday KEI published an earlier letter, dated, April 27, 2016, from the Colombian Embassy to the Minister of External Affairs. (See: April 27, 2016 Letter from Colombian Embassy regarding Senate Finance, USTR pressure on Novartis compulsory license /node/2504.) The April 27, 2016 letter, which also mentions a request by USTR for a meeting with the Colombia ambassador, referenced a Finance Committee staffer but did not mention Eissenstat by name. Eissenstat is mentioned in the April 28, 2016 letter.
As noted, the contents of the April 28, 2016 letter were earlier reported in the Colombian press, including these reports:
Everett Eissenstat has worked for the Congress or the federal government for more than 20 years. He was Chief International Trade Counsel for the republicans on the Senate Finance Committee from 2001 to 2006, and again from 2011 to the present. From 2006 to 2011, Eissenstat served as Assistant U.S. Trade Representative for the Americas. His bio on Linkedin says he is proficient in Spanish and Portuguese, played a key role in several trade negotiations in South America, and describes his current job as follows:
I also conduct oversight over U.S. international trade policy and government agencies, including international trade negotiations such as the Trans-Pacific Partnership (TPP), the Transatlantic Trade and Investment Partnership (T-TIP), negotiations under the auspices of the World Trade Organization (WTO), and the Trade and Investment Services Agreement (TISA).

I manage the daily operations of five to seven Finance Committee professional staff and provide guidance and leadership to approximately thirteen associate committee staff. I also serve as an advocate and spokesperson on behalf of the Chairman of the Senate Finance Committee.
Edward Hammond's rough translation of the letter included these passages:
Eissenstat mentioned that although Novartis is not an American company, the US pharmaceutical industry was very worried about the possibility that the case would become a precedent that could be applied to any patent in any industry which, according to him, could lead to the reputation of our country's respect for intellectual property rights being viewed as impaired and Colombia becoming one among those countries that would have special treatment. . .

Einssenstat also mentioned that, if the Ministry of Health does not correct this situation, the US pharmaceutical industry and related interest groups could become very vocal and interfere with other interests that Colombia could have in the US.
The document concludes by noting:
"As mentioned in the communication of yesterday, we are concerned that this case may create a problem in the approval of resources for the new initiative called 'Paz Colombia'. Likewise, we are concerned that a dispute may be generated in the light of the provisions of the FTA."
Ed Silverman wrote a story about this dispute for Statnews [1], published yesterday, which reported this comment from the Senate Finance Committee:
A Senate Finance Committee spokeswoman wrote us that "committee staff routinely meets with foreign governments to seek clarifications on actions that may be inconsistent with international trade obligations."
KEI comment:
James Love, KEI Director
The Senate Finance Committee is seeking to undermine a number of agreements on access to medicines, including Article 16.13 of the U.S. Colombia Free Trade Agreement, "Understandings Regarding Certain Public Health Measures." The use of these back channel methods of conveying threats and pressure is common, and the leak of these two letters provides insight into why governments that have the right to issue compulsory licenses rarely do. The fact that after meeting with Eissenstat, the Colombian Embassy connects the patent dispute to the funding of the Colombian peace process illustrates how the United States can link health and national security together in ways that a harmful to both. A USTR official once told KEI that the US government would use 'all the powers at its disposal to achieve its objectives' in the context of disputes involving patents on medicines. This was a frightening notion at the time, and relevant here. The combination of great power and secrecy regarding the use of coercion to achieve objectives presents risks that need to discussed and challenged by those who value health, fairness and democratic processes.
Andrew Goldman, Counsel, Policy and Legal Affairs, KEI
The U.S. Senate Finance Committee intervention in a Colombia dispute over cancer drug patents held by a Swiss company illustrates how interconnected is power and privilege, and how big companies can influence multiple governments to protect high drug prices.
Carolina Botero, Fundacion Karisma
The relation between trade agreements and public policy shaping has long been known and denounced by civil society. The Colombian letters in the Novartis case evidence a more subtle and much more hard to confront pressure used by powerful countries to put developing States against the wall. How can a government choose between peace and a patent? How can they explain that to their constituents? At the end this is a very effective mechanism that explains why compulsory licences are just a legal tool but not an effective tool.
Andrea Carolina Reyes Rojas – Misión Salud
We disagree with US intervention considering completely undue. How is it possible that between civilized people can somebody put someone else to choose between peace or health?

But we feel ashamed by Colombian officials response to that intervention. We trust that being imatinib a second step (being the first one all the political pressure that took place when trying to regulate biotecnological medicines), we can start building a country where sovereignty, courage, commitment with human rights and transparency are our priorities.

We need countries to respect, protect and fulfill the right to health of citizens and we also ask those countries where multinational pharmaceutical companies belong, such us United States and Switzerland, to fulfill their duty of international cooperation and aling with low and middle income countries to prioritize health above comercial and financial interests. This applies to our current situation in Colombia regarding imatinib, but goes completely beyond it, reaching international urgent process such as the implementation of the core recommendations of the CEWG (World Health Assembly level) and the United Nations High-Level Panel on Access to medicines.
---
Translation of the letter into English by Anne-Beatrix Keller-Semadeni follows:
CHANCELLERY
TODOS POR UN
NUEVO PAIS
Embassy of Colombia in the United States

S-EUSWHT-16-870

In Washington, D.C., on April 28, 2016

Dr. Alejandro Gaviria
Minister of Health
Bogotá D.C.

Ref.: GLIVEC – NOVARTIS

Dear Minister,

As announced in the letter I-EUSWHT-16-868 that we sent yesterday, April 27, staff members of the Embassy and of the Commercial Office and myself met with Everett Eissenstat, member of the Senate Finance Committee to discuss the possible declaration of public interest regarding the issuance of a compulsory licence on the drug GLIVEC manufactured by the pharmaceutical company NOVARTIS. It is worth mentioning that Mr. Eissenstat is the Chief International Trade Counsel for the republican side of the Finance Committee.

Mr. Eissenstat commented on the discomforts that the announcement by the Ministry of Health of a possible compulsory licence on the drug GLIVEC had caused in the United States. Mr. Eissenstat believes that there are not enough reasons to justify the legality of a compulsory licence for GLIVEC. Therefore, he thinks that if that happened, Colombia would violate the intellectual property rights of the company NOVARTIS, as well as, among other treaties, the free trade agreement between Colombia and the United States.

Moreover, Mr. Eissenstat mentioned that although NOVARTIS is not an American company, the US pharmaceutical industry is very worried by the fact that such a case might become a precedent that could be applied for any patent in any industry. This, according to him, could tarnish Colombia's reputation regarding the respect of intellectual property rights and place Colombia among the countries that would receive a special treatment.

Mr. Eissenstat also mentioned that if the Ministry of Health did not correct this situation, the pharmaceutical industry in the United States and related interest groups could become very vocal and interfere with other interests that Colombia could have in the United States.

As mentioned in our letter of yesterday, we are concerned that this case could jeopardize the approval of the financing of the new initiative "Paz Colombia". We also worry of the potential of a dispute with the parties affected in light of the provisions of the free trade agreement.

We are waiting for decisions and instructions in this case.

Yours faithfully,

/signed/
Andrés Flórez
Deputy Chief of Mission
For more information, some relevant references and links to news reports
News reports over Senator Hatch pressure on Colombia compulsory licenses on Novartis drug. /node/2561