Dr. S. Ward Casscells took the stage at the 2011 Innovative Minds in Prostate Cancer Today (IMPaCT) Meeting as a prostate cancer patient, a doctor, an Army Reserve colonel, and the former top doctor for the Pentagon. There, he praised the central role of the Department of Defense in bringing important prostate cancer medicines to market, including Xtandi (referred to by its experimental name, MDV3100), an expensive prostate cancer drug that was funded from basic research through phase I and II clinical trials by taxpayer and charitable funds.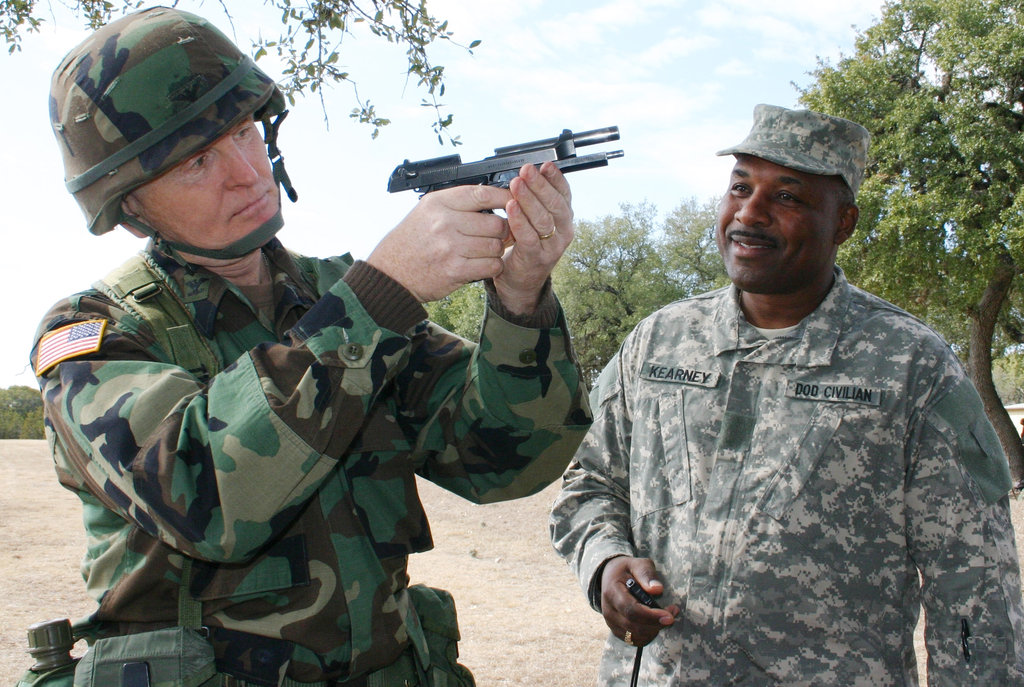 Dr. S. Ward Casscells, left, former Assistant Secretary of Defense for Health Affairs, died in 2012 of prostate cancer. | Elaine Wilson/Fort Sam Houston Texas News-Leader
I want to thank the Department of Defense; of course I used to sponsor all this research. I put quite a lot of money into it; now I'm the beneficiary. But it's still not enough. Yet the Department of Defense put together the clinical trials consortium without which we wouldn't have many of the medications you've heard about today. Let's list them really quickly; Denosumab, Abiraterone, MDV3100, Ipilimumab, XL184—these were not sponsored, shepherded, championed by the National Cancer Institute. That's a different organization where the focus is on doing basic research that's going to win a Nobel Prize. It's to treat our children; it's not to treat us. It's the DOD Prostate Cancer Consortium that's working on medications for us. And we have to stand up for them as they've stood up for us. (Emphasis added.)
Video of Dr. Casscells' speech at the 2011 IMPaCT plenary is here. More on Xtandi, including KEI's petition to the NIH to lower the price of the drug, here.
The consortium that Dr. Casscells referred to is known as the Prostate Cancer Clinical Trials Consortium (PCCTC), a joint charitable and government program that is administered by the Prostate Cancer Foundation and the Prostate Cancer Research Program (PCRP), which operates under the U.S. Army-managed Congressionally Directed Medical Research Programs (CDMRP).
The goal of PCCTC is to advance prostate cancer research and accelerate the most expensive portion of drug development, clinical trials. In a February 2011 newsletter, PCRP boasted that PCCTC "facilitates the rapid movement of new therapies for prostate cancer through Phase I/II and Phase II clinical trials, and ultimately into clinical practice." PCCTC accomplishes its mission through its "Coordinating Center," an administrative body that coordinates and runs clinical trials:
Key to the PCCTC's success is its efficient management by the Coordinating Center, under the leadership of Principal Investigator Howard Scher, M.D., and Director Jake Vinson, at Memorial Sloan-Kettering Cancer Center. The Coordinating Center serves as the central hub of the PCCTC, streamlining processes that would otherwise impede timely trial activation, conduct, completion, and analysis. It boasts an organizational structure that facilitates seamless interaction between clinical sites, trial sponsors, internal and external advisory boards, and regulatory agencies. These stakeholders work together through the Coordinating Center to select only the most promising clinical development opportunities. Coordinating Center services include project management, protocol development, budgeting and contracting, regulatory document management, and database development, maintenance, and security. (Emphasis added.)
PCCTC counts amongst its membership 13 prestigious cancer centers in the United States, including Memorial Sloan-Kettering, where one of the inventors of Xtandi, Dr. Charles Sawyers, now runs a research lab.
The principal investigator on Xtandi clinical trials, Dr. Howard I. Scher, a researcher at Sloan-Kettering, attributed the success of Xtandi clinical trials to the work of PCCTC. "The accelerated development and approval of enzalutamide illustrates how the PCCTC's unique academic-industry co-development paradigm can bring life-prolonging drugs to patients faster," Dr. Scher said in a 2012 PCRP press release.
KEI traced the clinical trials involved in FDA approval for Xtandi in its January 2016 submission to the NIH to lower the excessive price of Xtandi under the NIH's Bayh-Dole Act authority. PCCTC coordinated key phase I and II clinical trials, and Dr. Scher remained involved in conducting the phase III clinical trial used for the FDA's Medical Review by Medivation.