On September 10, 2015, the National Association of Manufacturers (NAM), wrote to USTR expressing alarm at the European Union support of an indefinite extension of a WTO waiver of obligations to grant patents on pharmaceuticals for UN defined least developed countries (LDCs). In 2015, there were 954 million persons living in LDCs, with a per capita income of $964, according to the World Bank. The EU had aligned itself with health advocates trying to protect the bottom billion access to life saving medicines.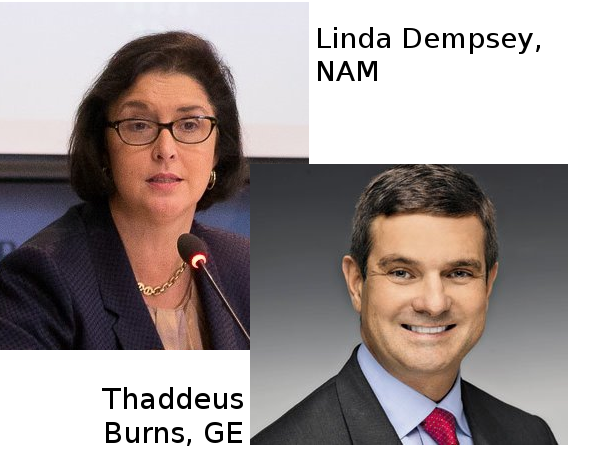 On September 21st, 2016, the Office of the United States Trade Representative (USTR) released 72 pages of correspondence in response to a FOIA request submitted by Knowledge Ecology International (KEI) on September 16, 2015 for
all notes and correspondence between the Office of the US Trade Representative and any non-government person or entity regarding the World Trade Organization's (WTO) Trade-Related Aspects of Intellectual Property Rights (TRIPS) Council and the proposed Least Developed Country (LDC) request for an extension of the transitional period in the TRIPS Agreement for pharmaceutical products.
Contained in the 72 pages of correspondence is a letter dated September 10, 2015, from Linda Dempsey (Vice President, International Economic Affairs, National Association of Manufacturers, NAM) to two USTR officials, Chris Wilson (Deputy Chief of Mission to the WTO) and George York (Deputy Assistant USTR for Intellectual Property and Innovation at USTR) opposing the request by least-developed Members of the WTO for an extension of the transitional period under Article 66.1 of the TRIPS Agreement for Least Developed Countries with respect to Pharmaceutical Products, and for waivers from the obligation of Articles 70.8 and 70.9 of the TRIPS Agreement for as long as a WTO member remained a least developed country.
On September 10, 2015, the European Commission released a statement providing unequivocal support for the LDC position:
"The Commission agreed to support the least developed countries' call for easier access to cheaper medicines by means of an indefinite exemption from World Trade Organization (WTO) intellectual property rules for pharmaceuticals.
Commissioner Malmström said: "The poorest countries of the world need effective access to medicines. Although patents stimulate innovation in developed and emerging economies, intellectual property rules should be a non-issue when the world's poorest are in need of treatment. This exemption will give the least developed countries the necessary legal certainty to procure or to produce generic medicines. I am confident that the Council will support this approach, and that the EU will take the lead in the WTO in this field."
The WTO granted a time-limited exemption before to these countries, but the Commission believes that extending it indefinitely would give legal certainty for long-term supply as well as enhance local production of much-needed medicines (Source: European Commission Press Release, European Commission supports better access to medicines in poorest countries, September 10, 2015, http://europa.eu/rapid/press-release_IP-15-5620_en.htm)
In Dempsey's communication (sent on the day the EU released its position on the LDC waiver) to USTR (copying USTR's Probir Mehta, General Electric's Thaddeus Burns and NAM's Ken Monahan), Dempsey remarked:
"The NAM's International Intellectual Property Task Force (chaired by Thaddeus) met with Probir today on trade secrets. Of course, the EU's very disturbing announcement about an indefinite exemption for LDCs came up and Probir suggested we reach out to you."
Dempsey indicated NAM's opposition to the LDC request (backed by the European Union) of an indefinite exemption for LDCs for TRIPS obligations on pharmaceuticals. Dempsey noted that while her industry "tolerated extensions of the commitments extended into by these countries", she characterized the EU's support of the LDC position as "making a mockery of the international trading system."
Concluding her message, Dempsey noted that GE's Thaddeus Burns (who chaired NAM's Intellectual Property Task Force) would engage with Business Europe to galvanize industry opposition in Europe to oppose the LDC Group's efforts to secure an LDC extension that would grant an extension on the TRIPS requirements for LDC members until graduation.
Dempsey started off her career as a Peace Corps volunteer in Togo, an LDC, where she worked on developing agricultural curriculum and taught "students and teachers on best agricultural practices" (Source: LinkedIn biography of Linda Menghetti Dempsey).
A feature in The Hill – Global trade guru – provide some insight into Dempsey's career trajectory from a Peace Corps volunteer in Togo to a seasoned Washington insider focused on denying LDC an indefinite exemption from TRIPS obligations on pharmaceutical drug patents.
"Linda Dempsey . . . is juggling numerous massive projects, from deciphering the contents of the 12-nation Trans-Pacific Partnership (TPP) to working on a U.S.-European Union deal. She is also busy with intellectual property protection, investment issues and the elimination of trade barriers…
Dempsey loves being swamped with work and admits to getting easily bored. "I couldn't wait to go to law school, loved debate, loved that type of stuff," she said. "I got to Berkeley and really did not find it that challenging or that relevant the first year."
To fill the unexpected void, she embarked on a three-year stint in the Peace Corps in Togo, West Africa. She did stints at a couple of law firms before making her way to then-Sen. Bill Bradley's (D-N.J.) office in the fall of 1995, where she also worked on immigration reform. After Bradley left office, she became trade counsel for the Senate Finance Committee and Sen. Daniel Patrick Moynihan (D-N.Y.) until he retired in 2000."
Brian Pomper, with Akin Gump, called her "a force of nature . She is absolutely a take-charge person who gets things done (Source: The Hill, Global Trade Guru, November 23, 2013)."
In 2015, this force of nature set her gaze upon the 954 million very poor people living in least developed countries.
In June 2015, The WTO LDC Group gave this rationale for the drug patent waiver.
It would be unconscionable for WTO Members to grant LDCs – the most vulnerable segment of countries – a time limited transition period, requiring them to repeatedly seek extensions. A time limited transition period creates an uncertain environment for the producers of affordable medicines, procurement agencies, donors as well as LDC governments that rely on the specific pharmaceutical transition period to produce and import affordable medicines. This in turn jeopardizes the health situation of the people and communities within LDCs, with especially adverse consequences for the scaling up of HIV/AIDS treatment. LDCs cannot deal with increasing communicable and non-communicable disease burden without the assurance of continuous availability of generic medicines as long as they remain LDCs. (Source: WTO TRIPS Council (June 2015): LDC Group Presentation on the Extension of the Decision for Pharmaceutical Products
The two other industry voices included in the email were Thaddeus Burns and Ken Monahan. Burns previously spent three years working for USTR, where he was known as an ardent ally of the pharmaceutical industry. Ken Monahan is currently Director for International Trade Policy at NAM. Previously he worked for the US Department of Commerce and for the House Ways and Means Committee. All three, Dempsey, Burns and Monahan, had worked for the federal government, the Congress, or both.