Through a Freedom of Information Act (FOIA) request, Knowledge Ecology International (KEI) has obtained 311 pages of correspondence between officials from the Office of the US Trade Representative (USTR) and employees of the Motion Picture Association (MPA), the Recording Industry Association of America (RIAA) and other entities including law firms on matters regarding South Africa and copyright policy. The FOIA request was filed by Claire Cassedy on October 29, 2019. The 311 page document is available here: https://drive.google.com/file/d/1wUYHzgwtYUaYiMLLeGfV7ucxk5Q1tpu0/view?usp=sharing
The correspondence dates from December 2018 to November 2019 and reveals an assiduous campaign mounted by the MPA and RIAA to thwart the passage of South Africa's Copyright Amendment Bill in the South African Parliament and to prevents its signing by the President of South Africa, Cyril Ramaphosa. The MPA and RIIA, working in concert with the International Intellectual Property Alliance (IIPA) petitioned USTR to impose higher tariffs on South Africa (by revoking the Generalized System of Preferences) over concerns with, inter alia, the fair use provisions contained in South Africa's Copyright Amendment Bill.
As KEI testified at the January 2020 public hearing on GSP benefits for South Africa:
Collectively, these publisher lobbies want to punish South Africa for adopting provisions in its copyright law that follow U.S. legal traditions, like fair use, or provide practical implementations for widely accepted copyright exceptions, such as for personal use, quotations, access to works for persons with disabilities, etc.
Publishers are opposing changes in the South African law that will expand the exceptions for education and research in South Africa, and make it easier for South Africa to enhance enforcement of copyright infringement while preserving and making legitimate many of the uses of works that are now legal in the United States and in many countries in Europe.
South Africa's proposed copyright law is a model for a copyright law that is more realistic and relevant for developing countries, and one that is consistent with realistic efforts to increase compliance with copyright law.
As noted by USTR in its Foreign Trade Barriers Report for 2020:
The DTI introduced an updated draft of the Copyright Amendment Bill and the Performers' Protection Bill that contain some needed modernization of the copyright law, such as the introduction of the right of communication to the public. However, these bills also contain provisions that some stakeholders assert will weaken the adequacy and effectiveness of copyright and related rights protection in South Africa. Specific concerns include broad and ambiguous exceptions to copyright, new limitations on contractual relations between private parties, and a provision prohibiting the circumvention of technological protection measures (TPMs) that some stakeholders assert may not meet international standards and contains overly broad exceptions. The bills passed Parliament in March 2019, and are currently with the South African president who, as of March 2020, had not indicated whether he will sign the bills into law or send them back to Parliament.
The trove of FOIA correspondence between the publishing, film, and music industry and USTR provides insight into the nature of how these industries sought to undermine South Africa's legislative reforms – reminiscent of the days when the pharmaceutical industry sued Nelson Mandela over the Medicines and Related Substances Amendment Act. Rather than providing a comprehensive overview of the 311 pages of correspondence received, this piece aims to provide a glimpse into some of the MPA's engagement with USTR and South Africa.
On March 4th, 2019, Anissa Brennan, Senior Vice President, Trade & International Affairs (MPA) sent the following communication to three officials at USTR – Anjam Aziz, Sung Chang, and Daniel Lee and copied George York (RIAA) and Kevin M Rosenbaum (Mitchell Silberberg & Knupp LLP).
In her note to USTR, Anissa Brennan (who has a concentration in Human Rights in her M.A. in International Development from the University of Denver) emphasized that the draft legislation was "not well written", and did "not meet the requirements for accession to international treaties". Brennan proposed that South Africa's copyright reform be suspended until it could be "redrafted by an appropriately qualified team of people".
---
Dear USTR colleagues,
Attached please find a submission by MPAA to the NCOP on South Africa's draft Copyright Amendment Bill and Performers' Protection Amendment Bill. Our two key messages are:
1. That the legislation as currently proposed is not well written, has not been channeled through the correct processes or subjected to an impact assessment; does not meet the requirements for accession to international treaties and fails to address practical aspects needed for implementation across the wider creative industry. Also, the proposed legislation will put local South African artists and creators at a disadvantage when compared to their counterparts in other countries — and it presents serious disincentive to foreign direct investment (FDI) which will disappoint the objectives of South Africa's current President.
2. There is a simple answer to this situation — that the progress of the Bills be suspended so that they may be redrafted by an appropriately qualified team of people, classified accurately according to South Africa's constitution and subjected to the proper impact assessment process before being considered again formally for signature and implementation.
Please let me know if you have any questions.
Regards,
Anissa
---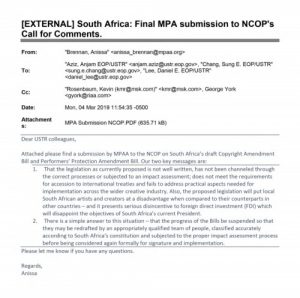 Brennan's note (March 4th, 2019) contained the MPA's submission (February 22, 2019) to South Africa's National Council of Provinces (NCOP). The MPA's letter to South Africa's NCOP noted the following.
The MPA highlighted that the South Africa's film sector contributed 5.4 billion South African rand to the country's GDP from 2016-2017.
"According to a report commissioned by South Africa's National Film and Video Foundation, from 2016 —2017 the South African film market has contributed R5.4 billion to the country's GDP and represents a total market size of R1 255 560 830. Our members have invested in local production and global distribution of such major feature films as "Safe House", "District 9", "The Avengers", "Tomb Raider", "The Dark Tower", "The Maze Runner", "Blood Diamond", "Mad Max", "Invictus", "Blended", "Mandela: Long Walk to Freedom" and the television series "Black Sails", to name but a few. We believe bringing South African Copyright and Performers' Protection bills in line with the WIPO Internet and Beijing treaties – as well as with internationally recognized best practices — would help foster the creative and commercial success of South African audiovisual works and the people and businesses who make them possible."
The MPA recounted President Ramaphosa's comments at Davos to "show that he embraces the potential of the creative industry as a key component in that prosperity."
"We offer this position in the context of President Ramaphosa's quest for significant levels of foreign direct investment over the next few years. — He has urged that the jobs created and the revenues contributed help to deliver the 4th Industrial Revolution landscape and business frameworks that are critical to South Africa's future prosperity. The President's comments at Davos show that he embraces the potential of the creative industry as a key component in that prosperity."
The MPA letter provided the following perspective in relation to the WIPO internet treaties.
"The Bills are not compatible with the WIPO internet treaties to which South Africa intends to accede. Michelle [sic] Woods, Director of WIPO's Copyright Law Division, reportedly raised many treaty violation concerns with the Technical Panel of Experts. One core concern is that many of the provisions in the Copyright Amendment Bill simply do not implement the minimum standard of protection required by treaty obligations. We urge that the Government make the necessary changes now to comply with the treaties. While the draft language is being reviewed and revised, we would encourage using this opportunity to address also the plethora of other concerns about the two Bills."
In relation to fair use, the MPA asserted the following.
"Overbroad copyright exceptions violating international treaty norms (Sections 12 and 19 CAB and Section 5 PPAB): South Africa is not well served by adopting a fair use model on top of a closed list of (expanded) exceptions. The proposed "hybrid" system broadens some exceptions to the point of treaty violation in that exceptions do not pertain to a 'certain special case' as required by both the Berne Convention and TRIPS. The proposed approach will lead to uncertain, unremunerated and unauthorised use – and will effectively expropriate the property of creators and investors. South Africa will lose potential to develop the next generation of creators and will fail in its objectives to support the current generation."
The MPA provided the final recommendation to South Africa's NCOP.
"We support suspending the progress of the Bills, to draft them again, classify them accurately (as a Section 76 bill) and subject the bills to the proper impact assessment process (including treaty compliance) before considering them again formally for signature and implementation."