(More on Moderna here: https://www.keionline.org/moderna)
(Updated to include modernatx patents)
The biotech company Moderna is in the news this week, after making an announcement of early clinical results for mRNA-1273, a vaccine candidate against novel coronavirus (SARS-CoV-2). The early and partial data are from a Phase 1 study led by the NIH's National Institute of Allergy and Infectious Diseases (NIAID). The announcement of the partial results from the Phase 1 was made shortly before selling stock.
The Phase 1 trial results were announced on May 18, 2020, in a 7:30 AM EDT press release). The press release for the proposed public offering on common stock was issued the same day, at 4:18 PM, and the pricing of the stock, also later that day, at 10:32PM.
(The early announcement of the Phase 1 results drove the share price up from its May 15 close of $66.69 to $86.14 at the open of trading on May 18. By May 21, after investors had a chance to reflect on the data, prices returned to their May 15 levels.)
On April 16, 2020, Moderna had issued an earlier press release regarding BARDA funding of the vaccine, titled: "Moderna Announces Award from U.S. Government Agency BARDA for up to $483 Million to Accelerate Development of mRNA Vaccine (mRNA-1273) Against Novel Coronavirus."
Under the terms of the agreement, BARDA will fund the advancement of mRNA-1273 to FDA licensure. A Phase 1 study of mRNA-1273 is being conducted by the National Institutes of Health (NIH). The Phase 1 open-label study, which began on March 16, 2020 has completed enrollment of the original study: 45 healthy adult volunteers ages 18 to 55 years in three dose cohorts (25 µg, 100 µg and 250 µg). The NIH recently amended the Phase 1 protocol to include an additional six cohorts: three cohorts of older adults (ages 56 -70) and three cohorts of elderly adults (age 71 and above). Enrollment for these cohorts is ongoing.

If supported by safety data from the Phase 1 study, the Company intends to begin a Phase 2 study of mRNA-1273 under its own Investigational New Drug (IND) application in the second quarter of 2020. Subject to data from these studies and discussions with regulators, a Phase 3 study could begin as soon as fall, 2020. BARDA funding will support these late-stage clinical development programs, as well as the scale-up of mRNA-1273 manufacture in 2020 to enable potential pandemic response.

To support the scale-up, Moderna plans to hire up to 150 new team members in the U.S. this year. This includes a significant increase in its skilled manufacturing staff to expand manufacturing capacity from two shifts per day, 5 days per week to three shifts per day, 7 days per week, engineers to manage process scale-up, and clinical and regulatory staff to support clinical development.

"We are thankful for BARDA's support to fund the accelerated development of mRNA-1273, our vaccine candidate against SARS-CoV-2," said Stéphane Bancel, Moderna's Chief Executive Officer. "Time is of the essence to provide a vaccine against this pandemic virus. By investing now in our manufacturing process scale-up to enable large scale production for pandemic response, we believe that we would be able to supply millions of doses per month in 2020 and with further investments, tens of millions per month in 2021, if the vaccine candidate is successful in the clinic."

"Vaccines are a critical tool for saving lives and stopping the spread of the SARS-CoV-2 virus," said BARDA Director Rick Bright, Ph.D. "Delivering a safe and effective vaccine for a rapidly spreading virus requires accelerated action. BARDA's goal is to have vaccine available as quickly as possible and preparing now for advanced stage clinical trials and production scale-up while the Phase 1 is underway could shave months off development of COVID-19 vaccines."
On its website, Moderna describes its intellectual property as follows:
To date, Moderna has been granted over 100 patents in the United States, Europe, Japan and other jurisdictions, protecting fundamental inventions in the mRNA therapeutics space, with several hundred additional pending patent applications covering key advances in the field. We have augmented our internal patent estate with several in-licensed patent estates, including licenses to pioneering discoveries from Harvard University and the University of Pennsylvania.

We continue to invest aggressively in science and technology to build a broader patent portfolio and ensure Moderna is in the strongest possible position to deliver on the promise of mRNA to bring a new class of transformative medicines to patients in the decades to come.
The Moderna 10-K filing for the year ending December 31, 2019 describes the patent portfolio as follows:
INTELLECTUAL PROPERTY
Our patent estate and approach, a strategic asset.
Since our inception, we have considered the creation and building of our intellectual property, or IP, portfolio as a critical part of our mission. In a relatively short amount of time, we have built a significant patent estate that includes over 560 world-wide pending patent applications and over 210 issued or allowed U.S. and foreign patents covering key components of our proprietary platform technology, investigational medicines, and development candidates. The figure below shows our internally developed estate and indicates the number of patents approved since 2010.

A search of the USPTO website for patents assigned to Moderna or Modernatx identied 133 patents assigned to Moderna. None of the patents include a disclosure of federal funding of the research in the patent.
(AN/moderna OR AN/modernatx): 133 patents.
((AN/moderna OR AN/modernatx) AND GOVT/government): 0 patents.
There were several certificates of correction, and I checked each one, but none added a disclosure of federal funding.
I also searched for patent applications, and had the same result.
Results of Search in AppFT Database for:
an/moderna or an/modernatx: 155 applications.
((AN/moderna OR AN/modernatx) AND GOVT/government): 0 applications.
On the other hand, the Moderna webpage on pipeline products makes references to BARDA funding, including for research on vaccines, for both Zika and mRNA-1273 (the COVID 19 vaccine candidate), under the column titled "Moderna rights."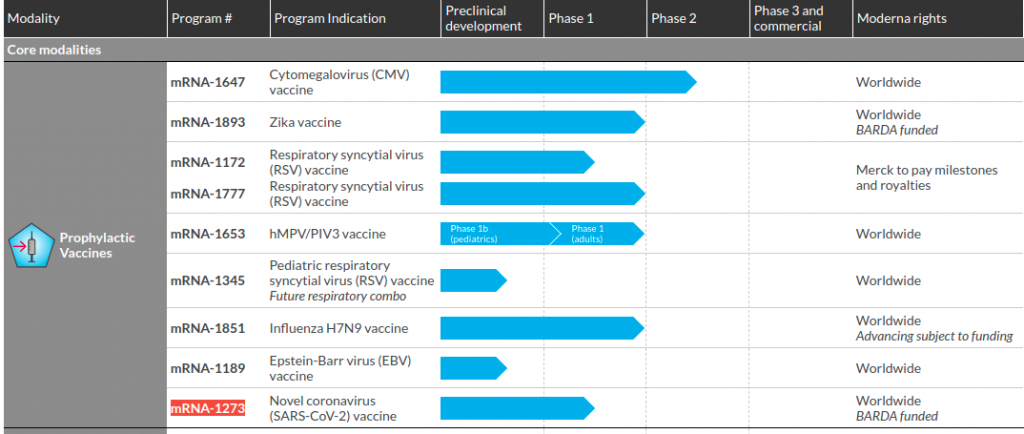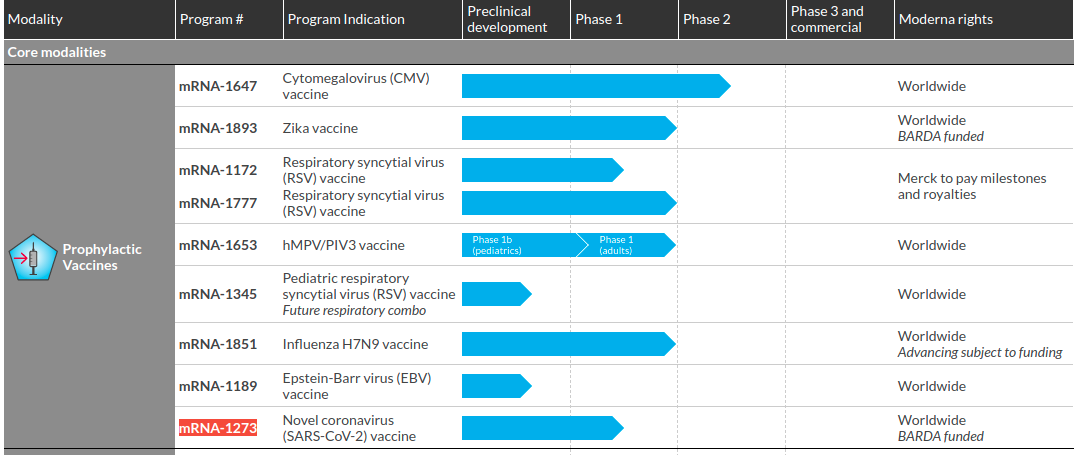 It is possible that Moderna has patent applications filed but not yet published that will disclose federal funding, but given its history, the complete lack of disclosures was surprising.
---
The 2019 10-K filing, which is pre-COVID-19, makes this statement:
Our prophylactic vaccines modality currently includes eight programs, five of which have entered into clinical trials. In addition, to the eight programs being developed, the H10N8 vaccine (mRNA-1440) and Chikungunya vaccine (mRNA-1388) are two public health programs that are not being further developed without government or other funding.
Also,
Aspects of our pipeline have been supported through strategic alliances, including with AstraZeneca, Merck, and Vertex Pharmaceuticals, or Vertex, and government-sponsored organizations and private foundations focused on global health initiatives, including BARDA, DARPA, NIH, CEPI and the Bill & Melinda Gates Foundation[.]
And the filing also states,
Our global public health portfolio is focused on epidemic and pandemic diseases in which funding has been sought from government and non-profit organizations.
Some of the above-mentioned alliances were described as follows:
Strategic alliances with government organizations and foundations

Defense Advanced Research Projects Agency (DARPA)

In October 2013, DARPA awarded Moderna up to approximately $24.6 million under Agreement No. W911NF-13-1-0417 to research and develop potential mRNA medicines as a part of DARPA's Autonomous Diagnostics to Enable Prevention and Therapeutics, or ADEPT, program, which is focused on assisting with the development of technologies to rapidly identify and respond to threats posed by natural and engineered diseases and toxins. As of December 31, 2019, $19.7 million of the award amount has been funded. This award followed an initial award from DARPA of approximately $1.4 million given in March 2013 under Agreement No. W31P4Q-13-1-0007. The DARPA awards have been deployed primarily in support of our vaccine and antibody programs to protect against Chikungunya infection.

Biomedical Advanced Research and Development Authority (BARDA)

In September 2016, we received an award of up to approximately $125.8 million under Agreement No. HHSO100201600029C from BARDA, a component of the Office of the Assistant Secretary for Preparedness and Response, or ASPR, within the U.S. Department of Health and Human Services, or HHS, to help fund our Zika vaccine program. Under the terms of the agreement with BARDA, an initial base award of approximately $8.2 million supported toxicology studies, a Phase 1 clinical trial, and associated manufacturing activities. Additionally, four contract options were awarded under the agreement with BARDA. Three out of four of these options have been exercised, bringing the total current award to approximately $117.6 million to support an additional Phase 1 study of an improved Zika vaccine candidate, Phase 2 and Phase 3 clinical studies, as well as large-scale manufacturing for the Zika vaccine.

The Bill & Melinda Gates Foundation

In January 2016, we entered a global health project framework agreement with the Bill & Melinda Gates Foundation to advance mRNA-based development projects for various infectious diseases. The Bill & Melinda Gates Foundation has committed up to $20.0 million in grant funding to support our initial project related to the evaluation of antibody combinations in a preclinical setting as well as the conduct of a first-in-human Phase 1 clinical trial of a potential mRNA medicine to help prevent human immunodeficiency virus, or HIV, infections. Follow-on projects which could bring total potential funding under the framework agreement up to $100.0 million (including the HIV antibody project) to support the development of additional mRNA-based projects for various infectious diseases can be proposed and approved until the sixth anniversary of the framework agreement, subject to the terms of the framework agreement, including our obligation to grant to the Bill & Melinda Gates Foundation certain non-exclusive licenses.