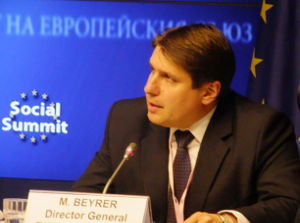 Markus Beyrer thinks blind people should not have robust copyright exceptions, because it might set a precedent for patents on health or climate technologies
In a May 14, 2013 letter signed by Markus Beyrer, a Brussels based corporate lobby group known as Business Europe has sent a letter to Commissioners Michel Barnier and Karel De Gucht opposing the WIPO treaty on copyright exceptions for persons who are blind or have other disabilities. (Copy of the Barnier letter attached here). Business Europe describes itself as "the main horizontal business organization at the EU level." It represents 41 national business organizations in 35 European countries, claiming to promote "growth and competitiveness in Europe." Below is a list of the 55 member companies on its Corporate Advisory and Support Group, which describes its main constituency. Many on these companies are also members of the US based Intellectual Property Owners (IPO) Association, which sent a similar letter to the USPTO on April 15, 2013. Like the IPO letter, it is highly likely that General Electric was the primary actor pushing for the letter.
One of the new elements of the Business Europe letter is the complaint that the treaty:
"is strongly supported by the same group of NGOs and advanced emerging economy countries that pursue a general IPR-weakening agenda at WIPO and other international forums. They would rely on the harmful precedent set by its hasty conclusion."
Given the fact that the treaty was first proposed at WIPO and UNESCO in 1985, and the current negotiations began in 2008, the world "hasty" seems odd.
Business Europe also complains that while the current treaty draft references the three step test in three separate copyright and trade agreements, it does not "apply to the entire agreement and to all signatories."
Really oddly, the letter claims that "many of the eventual signatory countries do not provide any copyright protection whatsoever." What countries that would sign the agreement don't have extensive copyright laws already on the books already?
Business Europe claims a treaty on copyright exceptions for blind persons would be "casting aside" the "international copyright infrastructure" and like the IPO, says the treaty "could set a very harmful precedent affecting broader debates about global IPR rules at the United National Framework Convention on Climate Change (UNFCCC), World Trade Organization (WTO), World Health Organization (WHO), WIPO and elsewhere."
Basically, the argument is, if you provide some type of exception for persons on any topic in copyright or patents, the whole global IPR regime is at risk.
Business Europe's Corporate Advisory and Support Group
ACCENTURE
ADAM OPEL AG
ALCOA
ALSTOM
ARCELOR-MITTAL
AREVA
BASF
BRITISH AMERICAN TOBACCO
BAYER
BIC
BMW
BOSCH
BP Europe
CATERPILLAR
DAIMLER
DIAGEO
DUPONT DE NEMOURS
ENEL
EXXONMOBIL
FACEBOOK
GDF SUEZ
GENERAL ELECTRIC
HENKEL
HITACHI
HYUNDAI
IBM
KLM
LHOIST
LUKOIL
MICHELIN
MICROSOFT
NBC UNIVERSAL
OMV
ORACLE
PFIZER
PHILIP MORRIS INTERNATIONAL
PHILIPS
PROCTER & GAMBLE
RANDSTAD
SCHINDLER
SHELL
SIEMENS
SOLVAY
STATOIL
TCS (Tata Consulting Service)
TELECOM ITALIA
TELEFONICA
THERMO FISHER
TOSHIBA
TOTAL
TOYOTA
UNILEVER
UPS
VEOLIA
VOLKSWAGEN