Day 5 of SCCR 31, December 11, 2015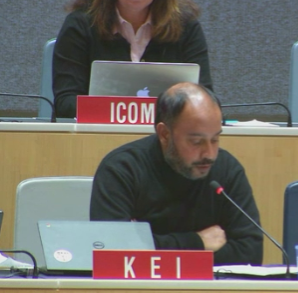 Thank you Mr Chair.
We welcome the proposal tabled by Senegal and the Congo to include the droit de suite, the artist resale right, in this Committee's agenda for future work.
I would like to refer to the Directive mentioned by the Commission, Directive 2001/84/EC which came into force on 1 January 2006:
"The European Commission has today adopted a report on the implementation and effect of that Directive. The report finds that while there are pressures on the European art markets, no conclusive patterns can currently be established to directly attribute the loss of the EU's share in the global market for modern and contemporary art to the harmonisation of provisions relating to the application of the resale right."
KEI supports works on a binding instrument on the resale right with certain optional protocols to be determined to work within existing legislation found in 65 countries.
We believe that an international instrument on the resale right is fundamental to provide fair and equitable remuneration to visual and graphic artists.