(More on government funded inventions here. Other KEI comments on NIH licenses are found here.)
Matt Richtel and Andrew Pollack explore the complex policy issues involved with the pricing of products based on taxpayer-funded inventions and research in a front page New York Times story published today.
Kite Pharma, a small California biotech that is quickly soaring to the top of the cancer immunotherapy market, has an extensive relationship with the National Cancer Institute (NCI), stretching back to the 1980s, when the head of Kite, Dr. Arie Belldegrun, worked as a fellow in the lab of Dr. Stephen Rosenberg, a top cancer researcher in the federal government.
See emails between Kite Pharma and the National Cancer Institute, obtained by KEI through FOIA, here.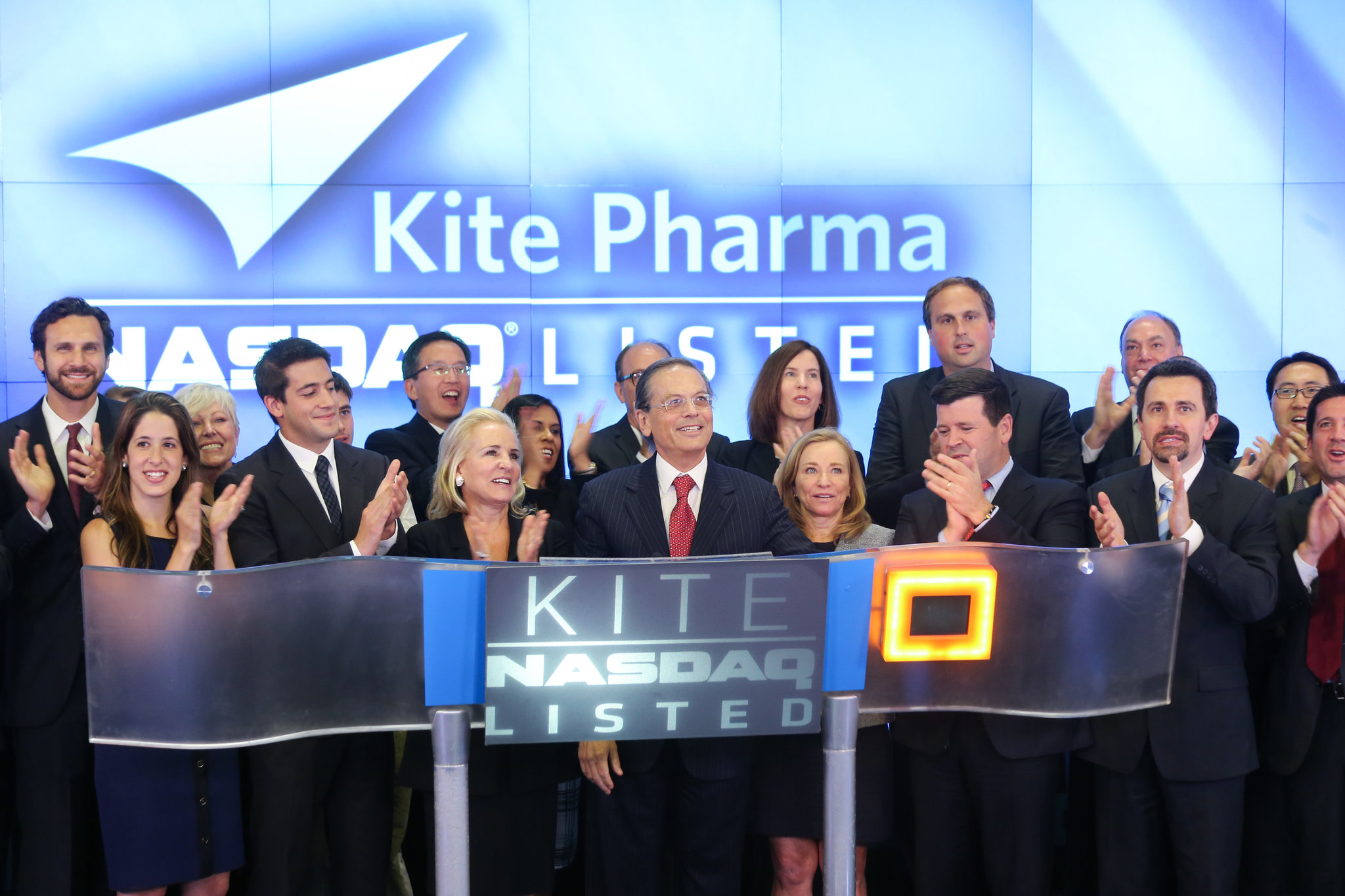 Dr. Arie Belldegrun, the CEO of Kite Pharma, at the Nasdaq stock exchange. | Nasdaq, 2016.
Using the story of the research partnership between Kite and NCI, which is located at the National Institutes of Health (NIH), Richtel and Pollack attempt to answer an important question: "Are taxpayers getting a good deal?"
Dr. Mark Rohrbaugh, a senior advisor on technology transfer at the NIH, gave the Times a simple answer: "N.I.H. has made it clear that its job is not to decide prices of drugs, period."
According to Richtel and Pollack, however, their question is more complicated, and intimately connected to debates over drug pricing in the United States:
The relationship puts American taxpayers squarely in the middle of one of the hottest new drug markets. It also raises a question: Are taxpayers getting a good deal?

Defenders say that the partnership will likely bring a lifesaving treatment to patients, something the government cannot really do by itself, and that that is what matters most.

Critics say that taxpayers will end up paying twice for the same drug — once to support its development and a second time to buy it — while the company reaps the financial benefit.

"If this was not a government-funded cancer treatment — if it was for a new solar technology, for example — it would be scandalous to think that some private investors are reaping massive profits off a taxpayer-funded invention," said James Love, director of Knowledge Ecology International, an advocacy group concerned with access to medicines.

The debate goes squarely to one of the nation's most vexing challenges: rising health care and drug prices. Kite is one of a growing number of drug and biotech companies relying on federal laboratories. Analysts expect the company to charge at least $200,000 for the new treatment, which is intended as a one-time therapy for patients.
Richtel and Pollack cite Wall Street analysts who put the price of Kite's most promising candidate, KTE-C19, a Chimeric Antigen Receptor T-Cell (CAR-T) therapy, at over $200,000 per year, and estimate that the market could "generate sales of $1 to $2 billion annually, making it among the most lucrative drugs to come from government research."
As KEI earlier reported, the relationship between Kite and NCI is based upon a series of exclusive patent license agreements on government CAR-T technologies, as well as Cooperative Research and Development Agreements (CRADAs), through which Kite funds clinical trials and other research at NCI labs. These agreements fit into the broader technology transfer practices of the NIH, a subject that KEI has devoted significant attention to (see our recent work here).
The Times story takes a deep dive into the long-standing relationship between Dr. Rosenberg and Dr. Belldegrun, and also explores the development of the technologies in Dr. Rosenberg's lab.
While Dr. Rosenberg told the Times that he has "no interest in the business side of the Kite relationship," the Times, citing emails obtained by KEI through FOIA, notes that Dr. Rosenberg has appeared at investor events for Kite to talk up Kite's products.
The FOIA records are available at the following links:
KEI expects to file comments on a similar case this week, in which the Army intends to grant an exclusive license to Sanofi on a vaccine for Zika Virus.